Fighting in Gaza continues despite calls for ceasefire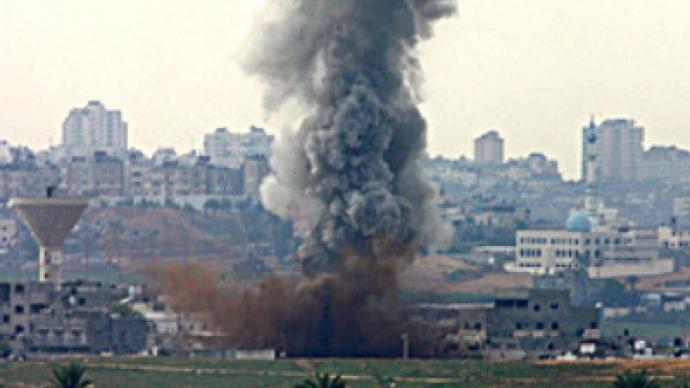 Violence is ongoing in Gaza as an Israeli aircraft is believed to have hit several Hamas positions in the area. Israeli forces are also reported to have targeted smuggling tunnels linking Gaza and Egypt.
On Tuesday, the Middle East quartet – comprised of the U.S., The UN, Russia and the EU – appealed to the two sides to implement an immediate peace deal.
Palestinian Officials say more than 370 people have been killed during the four-day Israeli air attacks.
The humanitarian situation in Gaza remains grave. The European Commission says medical aid is not reaching many civilians and has asked that relief workers be granted access to the area.
Meanwhile, Israeli Police say Hamas militants have fired rockets over the border from Gaza deeper into Israel than ever before. Missiles reached the city of Beersheba, which is 28 miles from Gaza.
Israeli Arabs show solidarity with Gaza brothers
Four people have been killed in Israel where many are divided by the hostilities.
There are more than 1.5 million people who possess an Israeli passport but also have family in the Palestinian Autonomy, and in every conflict between Israel and the Arab world such people like Mahmoud are forced to face their dual loyalty.
The Arabs in Old Jerusalem in the heart of the Israeli capital closed their shops in solidarity with their brothers across the border.
For a short time this week Israeli Arabs took to the streets but their protest was a lot less violent than previous times.
"What can we do? We want to live, we have families, we have children, we closed our businesses for two or three days but that's all we can do. We cannot do anything more," Israeli Arab Samir Razik said.
"The question is in their place what is more effective to behave like Hamas is behaving against Israel, or to do something minor, it all depends what will be the results," Israeli Jew Shmulik Eviatar said.
Russians to be evacuated from Gaza
Israeli security services hope to get a list of Russian citizens currently stranded in the Gaza Strip before Thursday night and after that determine the day to open the border for them cross.
The preliminary list of evacuees contains the names of 140 Russians and about 80 nationals of other CIS countries.
Most of them have dual citizenship, meaning that they hold both Russian and Palestinian passports.
You can share this story on social media: