Own goal: US senators fail to kick Russia out of 2014 World Cup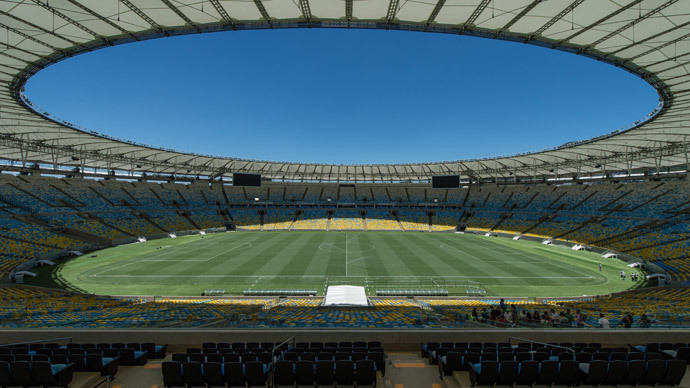 Football's world governing body FIFA, has refused to kick Russia out of the 2014 World Cup in Brazil, after two American senators said the country should be barred due to its actions in Ukraine.
Dan Coats and Mark Kirk wrote a letter to the organization based in Zurich in March asking for Russia's membership to be suspended, and for the country to be barred from competing in this year's World Cup in Brazil, as well as losing the right to host the event in four years' time.
In a letter to the two senators, FIFA said participation in the World Cup is based on sporting merit and only a violation of FIFA statutes and regulations could lead to a suspension from a competition.
Coats, a Republican senator from Indiana, was deeply disappointed by the ruling, saying, "FIFA suggests that outrageous misbehavior by member states does not matter because such decisions are irrelevant to soccer."
The 70-year-old, who was US ambassador to Germany for four years, cited Yugoslavia's expulsion from the 1992 European Championships in Denmark due to its behavior in the Balkan wars as a precedent, as this was not connected to the playing field.
It seems the American still plans to continue his protest.
"I continue to call upon FIFA leadership to impose the same punishment on Russia," Coats added.
In a counter measure, two Russian politicians demanded that the United States should be banned from this year's tournament in Brazil.
The petition to world football's governing body was made by state Duma MPs Aleksandr Sidyakin and Mikhail Markelov.
"It's an eye for an eye, a ball for a ball. Don't let the USA take part in the 2014 World Cup! End their membership of FIFA," Sidyakin wrote on Twitter.
The duo sought the country's expulsion because of its aggressive actions against Yugoslavia, Iraq and Libya, as well as its attempts to encroach on Syria.
The World Cup starts in Brazil on June 12, with both the USA and Russia qualifying for the tournament. Russia will be the next stop for the world's second-largest sporting competition, with the event getting underway in June 2018.
Twelve stadiums in 11 cities will be used to host the event, with the final scheduled to take place at Moscow's Luzhniki Stadium on July 8.
You can share this story on social media: