Columns of black smoke screen Moscow sky causing Twitter storm (PHOTOS)
Published time: 21 Apr, 2013 18:19
Edited time: 21 Apr, 2013 18:20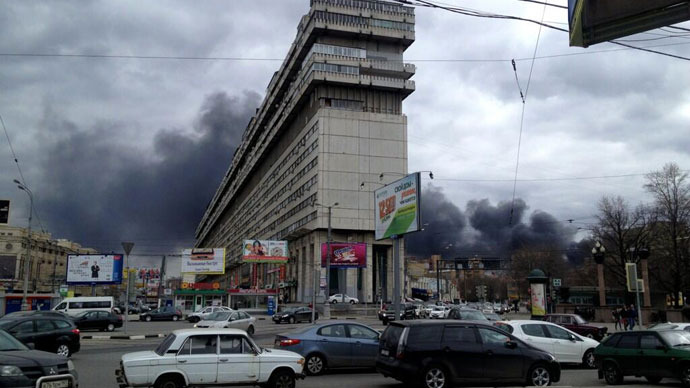 Ominous clouds of thick black smoke from a fire covered central Moscow sending social networks such as Twitter and Instagram into a frenzy on Sunday. Users shared images worthy of Mordor's menacing landscapes.
The smoke was seen by ignited interest in the downtown area of the Russian capital. Social networkers uploaded photos on Twitter and Instagram accounts speculating on what caused the event.

"Moscow's burning!" tweeted some alarmed users.
Others replied: "No, it's just the Pope was not elected."
The fire originated in an unattended warehouse located between 'Tulskaya' and 'Leninskiy prospect' metro stations. Tires and garbage were reported to have been burning, as the fire spread to 50 square meters.
Drivers were forced to close their windows trying to escape the toxic fumes, according to NТV.Ru.

The fire was reportedly extinguished without casualties. However, the cause of the incident is yet unknown.