India, Turkey lead in Facebook censorship, while US tops data snooping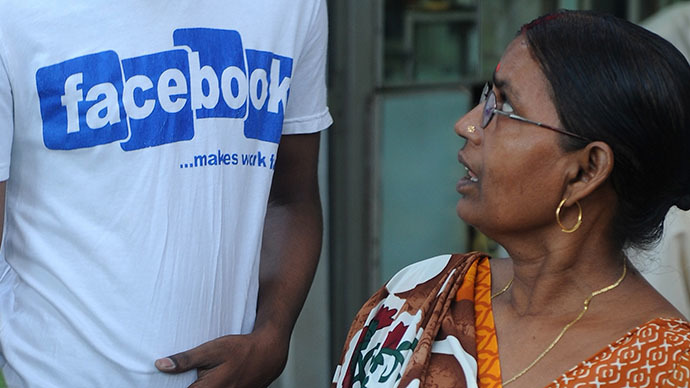 According to Facebook's latest transparency report, India and Turkey are the most frequent censors of the social network, blocking thousands of users' content, while the US is the country that has requested most information about user accounts.
Between July and December 2013, Indian authorities censored 4,765 Facebook posts which allegedly violated Indian laws that forbid criticizing religions or the government.

"We restricted access in India to a number of pieces of content reported primarily by law enforcement officials and the India Computer Emergency Response Team (CERT) under local laws prohibiting criticism of a religion or the state," Facebook said.

In India, a nation of 1.2 billion people, Facebook has over 100 million registered users. Only the US boasts a higher number of FB users.

"Facebook's mission is to give people the power to share, and to make the world more open and connected," Colin Stretch, Facebook's counsel, said in the report, released Friday. "Sometimes, the laws of a country interfere with that mission, by limiting what can be shared there."

Perhaps in an effort to throw some light on its internal activities in the wake of the NSA scandal, which saw former CIA analyst Edward Snowden last summer divulge thousands of classified records, some of which strongly suggested that the NSA was privy to the social media's private data, Facebook for the first time is opening up its records to state-sponsored censorship.

While India leads the world in total content blocked from users, Turkey came in a close second with 2,014 pieces of restricted material, most of which level criticism against the Turkish government, a practice which is against the law. Germany censored 84 pieces of user content that ran afoul of laws on promoting Neo-Nazi ideology, as did the authorities in France (80 restrictions) and Austria (78 restrictions).

Facebook, however, is not the only social media service to experience government interference. Access to Twitter in Turkey was restricted in the run-up to local elections on March 21. The ban was eventually lifted on April 3 after the Turkish Constitutional Court ruled on behalf of freedom of expression and individual rights.

Turkish Prime Minister Recep Tayyip Erdogan commented this week that the ruling lifting the ban was wrong and should be overturned.

"The constitutional court's ruling on Twitter did not serve justice. This ruling should be corrected," he told a parliamentary meeting of his AK Party.

In the second category of the transparency report, which considered government requests for user data, the United States led the pack with 12,598 government requests on 18,715 Facebook accounts. This number reflects America's newfound predilection for tracking people's communications around the world: The United States has requested user data on more than the next seven countries that made such requests (Australia, Brazil, Germany, France, India, Italy and the UK) combined.
Facebook said it complied with 81 percent of the data requests.
You can share this story on social media: