"Facebook killer" dad gets life for murdering 2-year-old girl
Published time: 2 Jul, 2011 10:54
Edited time: 3 Jul, 2011 14:14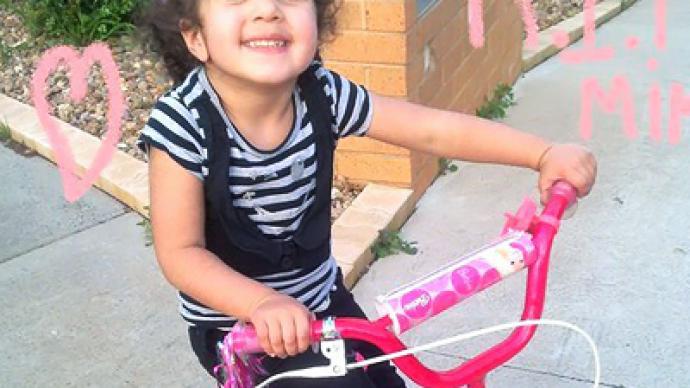 An Australian man has received a life sentence for stabbing his two-year-old daughter and leaving her to die. He was dubbed the "Facebook killer", as prior to the murder he announced his intention on the social network.
­In November 2010, Ramazan Acar, then 23, kidnapped the two-year-old girl from the house of his ex-partner, Rachelle D'Argent, in Melbourne. It is reported that he decided to take revenge on Rachelle, who was raising their daughter.

Little Yazmina adored her father, so ran gladly to him when he arrived to visit. According to the AFP news agency, Acar told his ex-partner he was going to take the child to a café and bring her right back, but the woman never saw her daughter alive again.

After taking the child away, Acar started sending Rachelle offending messages, in which he called the woman "a slut" and said that was his idea of revenge.

Acar even let Yazmina talk to her mother – the girl said she loved Rachelle, and these were the last words the woman heard from her daughter.

Later in the day, Acar wrote on his Facebook status: "Bout 2 kill ma kid". This turned out to be not just a threat, as minutes later Acar stabbed his child and left her to die. He then returned to the social network and updated his status posting "payback u slut".

After murdering his child, Acar also called his ex-partner and told her what he had done. The woman recollected that he was showing no remorse. "I killed her to annoy you. Even if I end up in prison I will know you continue to suffer," Acar told his slain daughter's mother.

While in custody, Acar reportedly told police he wanted to kill himself as well, but "did not have the balls."

Later, in a conversation with two psychiatrists, Acar confessed that Yazmina had become frightened and started crying when she saw her father approach her with a knife. This, however, did not deter him.

Supreme Court Judge Elizabeth Curtain said the crime was one of the worst murders she had ever come across. She also said that given the nature and gravity of the crime, a life sentence was the only appropriate punishment she could think of. Thus the judge ordered that the man serve a minimum of 33 years before being eligible for parole.

Acar's crime record includes 31 previous convictions.

After hearing the verdict, Rachelle D'Argent seemed satisfied. "Mummy told you there would be justice for you," the woman said, holding her lost daughter's photo. "Forever you will be in my heart and I know that you will always be smiling down on us."

Acar's page on Facebook is currently blocked.