The Exorcists: Four on trial in France for religion inspired kidnap and torture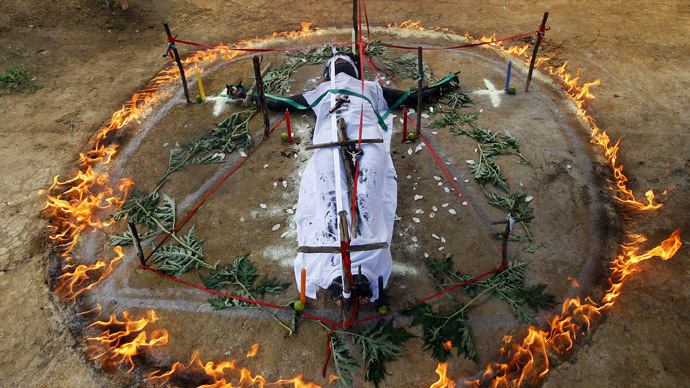 A group of former members of a US-based protestant church, the Seventh Day Adventist, are on trial in France for torturing a 19-year-old woman while attempting to exorcise "the devil" out of her in shockingly-violent style.
The trial of three men and a woman, all of French Caribbean origin, kicked off on Monday, with the group being charged with kidnapping, acts of torture and barbarism, reports AFP.
They are accused of tying up the young Cameroonian woman, Antoinette, in the position of Jesus Christ on the cross and keeping her bound to a mattress for a week.
The four, including her former boyfriend Eric Daeron, were confident that the teenager's body had been possessed by the devil. According to defendants, Antoinette jumped on Daeron mumbling something incomprehensible. After the attack – which they believed was a proof of her being possessed by evil - they decided to try an exorcism. 
When police found Antoinette in Grigny, a southern Paris suburb, she was dehydrated, emaciated and showed signs of having been beaten. The woman later told investigators that her captors fed her small amounts of oil and gave her water just to keep her alive.
The defendants deny using violence against the victim and claim that she agreed to the exorcism.
"To them, she was possessed, that is why they did not call a doctor. You call a doctor when someone is sick, when someone is possessed you exorcise them," their lawyer, Jacques Bourdais, told AFP.
The victim and alleged assailants met in 2011 at a Seventh Day Adventists church, which has millions of followers worldwide and 13,000 in France. The church said all the people involved in the case were expelled a year before the alleged attack, underlining that that it in no way condones that kind of exorcism.
Exorcisms are still not uncommon in Europe, including in France.
Last month, blood-curdling screams woke neighbors in the middle of the night in a quiet area of Limoux, South France. Locals alleged that a woman was being murdered, but when police arrived they found out that a bizarre exorcism ritual was being held in an evangelical church where a pastor was trying to release a member of the congregation from demonic possession, media reported. 
In March this year, an 8-year-old boy of Cameroonian origin was abandoned by his father and aunt to die in a hotel car park in Yvelines after they carried out exorcism on him, believing the child was possessed by "evil spirits."
You can share this story on social media: