Ex-cell phone boss's arrest ordered by court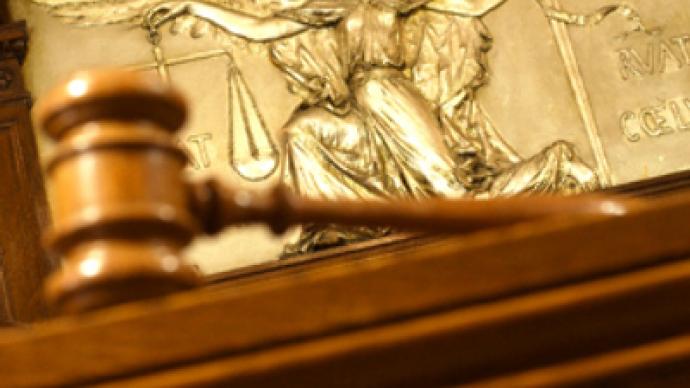 Evgeny Chichvarkin, the founder and ex-owner of the large Russian cell phone company Euroset has been officially placed on the authority's wanted list.
In his absence, the court has authorized Chichvarkin's arrest. He is accused of abduction and extortion of a former employee.

The investigative committee's claim for Chichvarkin's arrest in his absence was issued by the Basmanny court of Moscow on Wednesday.
Judge Olga Dubrovina said the court was satisfied by the prosecution's request for Chichvarkin's arrest, noting he is being charged with a grave crime. If allowed to remain free, it is feared Chichvarkin will destroy evidence and press the case, officials said.
Investigators believe that the ex-cell phone chief authorized the abduction, extortion and arbitrariness against Andrey Vlaskin, the former shipping agent of Euroset, a company previously owned by Chichvarkin.
Chichvarkin is also believed to have influence on his former business partners, who might be called as witnesses in the case. Officials fear Chichvarkin will attempt to pressure his partners regarding possible testimony.
Chichvarkin defenders' position
Chichvarkin's defenders have appealed the prosecution's claim and now plan to also appeal the court's decision.
Chichvarkin's lawyer, Vladimir Zherebenkov, said there has not yet been a criminal case launched against his defendant which would make his being arrested illegal, according to Russian law.
"The document about launching a criminal case for abduction and extortion of a man does not contain Chichvarkin's name, thus issuing a warrant for him and other procedural actions in his address are illegal," the lawyer said.
According to Zherebenkov, investigators did not notify lawyers about the issuing of charges against Chichvarkin in his absence. However, the Criminal Procedure Code says lawyers must be present at such proceedings. "The investigator only invited the lawyer appointed by the court, whose presence was a formality," Zherebenkov said.
Prosecutors say Evgeny Chichvarkin left Moscow for London on December 22, but there is no information indicating he bought a return ticket. Chichvarkin's lawyer, Vladimir Zherebenkov, offered proof that his client is now in London on vacation and said his return to Moscow will be based upon how Moscow courts rule on his case.
Further, Zherebenkov has filed a complaint with Aleksandr Bastrykin, the head of the investigative committee at the Public Prosecutor's Office, asking that charges against Chichvarkin be canceled along with the decision to issuing an international arrest warrant.
Public support to help find the truth
Chichvarkin remains as the leader in creating a branch in Moscow of a new opposition party called Right Cause. Leaders of Right Cause are now weighing whether to replace him. However, some members of the party have said they are prepared to support Chichvarkin.
On Tuesday, Boris Titov, one of the leaders of Right Cause and the head of the Business Russia community, told Interfax that he has contacted Chichvarkin by telephone. During the conversation, Chichvarkin denied all charges against him and asked Titov to organize a public investigation of the story being told by officials.
"We must show people what is really going on. Therefore we will organise a public investigation and involve businessmen, politicians and legal authorities in looking into it," Titov said.
He explained that an independent public investigation would help to determine whether it was a raiders attack on Chichvarkin's business and thus the case would be a matter of police corruption or whether Chichvarkin had actually broken the law.
The case background
In 2003 Chichvarkin had been told about plundering in Euroset offices. At that time, company management suspected Andrey Vlaskin, a former shipping agent for Euroset.
The prosecution believes Chichvarkin approved of a criminal group abducting Vlaskin and extorting from him those funds allegedly stolen from the company.
Vlaskin was allegedly kept in rented apartments until he agreed to compensate the company for its losses. Documents for rent on these apartments were discovered during a search of the company's office.
The criminal case, based upon Vlaskin's abduction, extortion and arbitrariness, was launched last autumn. On September 4, 2008 Basmanny Court of Moscow sanctioned the arrest of security service vice-president of Euroset Boris Levin and his deputy, Aleksander Yermilin.
After the case was launched, Chichvarkin and his business partner sold the company against their will. Earlier, Evgeny Chichvarkin said the searches conducted at the company's office might have been the work of corporate raiders who wanted to buy the company at a reduced price.
You can share this story on social media: