Around 30,000 evacuated as military depot catches fire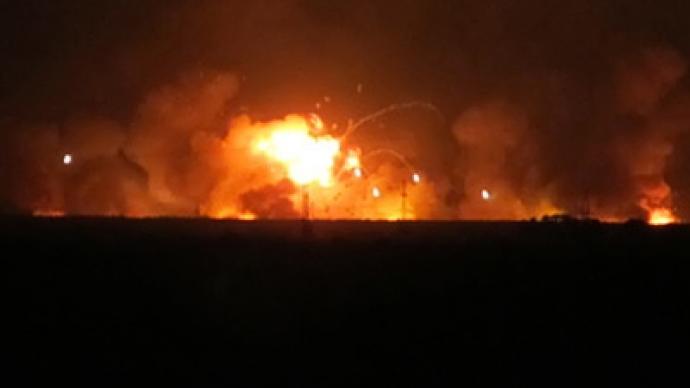 A major fire has broken out at an ammunitions storage depot in Central Russia, triggering explosions. At least 61 were injured and two elderly people have died from heart attacks said to have been brought on by the incident.
Over 25 have been hospitalized.The fire that caused ammunition explosions at the depot broke out on Thursday night in Russia's republic of Udmurtia, 28 kilometers south of Izhevsk.Military personnel at the site and local residents totaling around 30,000 people have been evacuated to safety. The shockwave from the blast burst windows in the city of Agryz in Tatarstan, as far as 10 kilometers away from the artillery depot.By 3pm Moscow time the fire at the ammunition depots had been localized, a source in the information department of the Ministry of Emergency Situations told Itar-Tass on Friday.A task force of over 1200 people and 191 pieces of machinery are currently involved in the clean-up of the incident. Emergency ministry aviation has poured over 800 tons of water on the raging flames on Friday, Interfax news agency reports. A ministry source told the agency that seven aircrafts are currently working at the site. This includes four Il-76 airplanes, two Mi-8 helicopters and one Mi-26 helicopter.Russian President Dmitry Medvedev said that despite the authorities claiming the fire had been contained, evacuees could not be returned to their homes until it was completely put out. Addressing the Defense Minister Anatoly Serdyukov, he added that those responsible for accident must be punished. "Two military depot fires in the span of two weeks – a pattern is emerging. The Defense Minister must report who will answer for that and how," he said. "Since certain people failed to draw conclusions, we will have to strip them of their shoulder-decorations."This depot houses some serious artillery including rocket shells intended for Russia's "Grad" multiple rocket launching systems and overall 5,000 truckloads of ammunition, a source from the emergency response headquarters told Interfax."The total weight of the projectiles is approximately 150,000 tonnes," he said.Details are still unclear as to what has caused the blaze, but officials believe that it may have been a cigarette.An investigation has been launched by military investigation department of the Russian Investigation Committee in the Izhevsk garrison, reports Itar-Tass. A team of detectives rushed to the incident site. A criminal case has been opened based on charges of contravening the rules on arms use.Panic broke out Thursday night in the central Russian republic of Udmurtia when a fire took place at the artillery depot at around 11:10pm Moscow time, sparking several explosions. An entire house is thought to have burned down in a nearby housing estate.The scale of the blaze has caused widespread destruction to the transport links within the region. Railways have been stopped and trains rerouted. According to the latest reports, five trains cannot proceed on their routes. Some passengers will be taken to their destinations by buses. The police have been ordered to prevent any instances of looting in the area surrounding the depot, Udmurtia's Interior Minister Aleksandr Pervukhin told journalists on Friday.A criminal case has already been opened against a man from the village of Malaya Purga, who stole products from a local liquor store."All attempts [at looting] will be suppressed in the toughest manner," Pervukhin said. "Seven other people suspected of looting have been detained."The incident comes just a week after another ammunition depot fire in the neighboring republic of Bashkiria, which injured 12 people and destroyed more than 40 houses. Over 2,000 people have been evacuated from the area with fragments of artillery believed to have landed as far away as 3 kilometers from the site of the blaze. Two years ago, another fire broke out at an artillery depot at the city of Ulyanovsk in November of 2009. Two naval personnel and eight servicemen were killed in that incident.
You can share this story on social media: