Last rites for euro? Europe in 'worst crisis since WWII'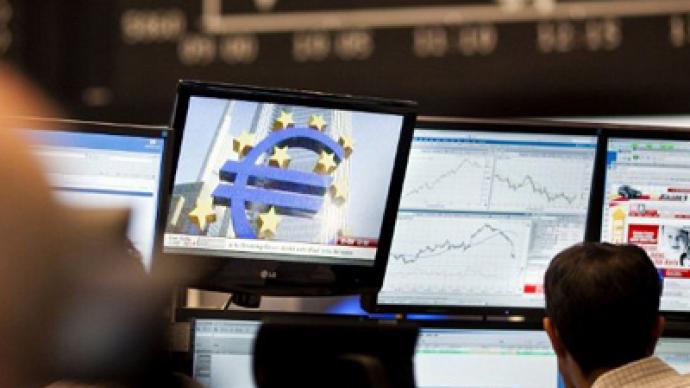 The eurozone could be falling apart at the seams. At what German Chancellor Angela Merkel called its "toughest hour since World War Two," the UK and Germany offer competing visions of the European Union's future as the debt crisis continues to deepen.
Doubts that new leaders in Greece and Italy will have the political will to push through tough reforms continue to plague the eurozone.While incoming Greek Prime Minister Lucas Papademos said Greece has no choice but to remain within the single currency, conservatives balked at the notion of more austerity measures, which they argue have already deepened the country's recession.  Papademos faces a confidence vote Wednesday as he prepares to meet with eurozone finance ministers in Brussels the following day.Meanwhile, Italy's new Prime Minister Mario Monti is faced with the daunting task of sweeping business, labor market, and pension reforms. Beyond placating its wary citizenry, Rome also needs to calm nervous investors as they seek to refinance 200 billion euros of bonds by the end of April.  It's a daunting task, considering it just sold three billion euros of five-year eurobonds at a staggering 6.29 per cent yield that many analysts doubt it'll be able to repay down the line.And while Italy, whose debt comes out to 120 per cent of gross domestic product, struggles to avoid a Greek-style bailout that Europe can scantly afford, Greece teeters on the brink of a default which could eject it from the economic and monetary union and send the entire eurozone into meltdown.  Meanwhile, self-described euro-skeptic David Cameron views the current crisis as an opportunity for the European Union to rethink its fundamental purpose.  Speaking at the Lord Mayor's banquet in London Monday, the UK Prime Minister said the EU, whose "pointless interference, rules and regulations" stifle growth rather than "unleash it," had become hopelessly out of touch with reality.  Seeking a more loosely integrated union that would see power devolve back to member states, he dismissed the notion that the union is an end in itself.  But opportunity for Cameron was tragedy for Merkel, who expressed fear that the very future of Europe hinged on the survival of the eurozone. Speaking at her Christian Democratic Union party's annual convention in Leipzig on Monday, Merkel said "Europe is in one of its toughest, perhaps the toughest hour since World War Two," as cited by Reuters.  But unlike Cameron, Merkel hopes the current crisis can ultimately facilitate a deepening of European integration and mutual interdependence.  "The challenge of our generation is to finish what we started in Europe, and that is to bring about, step by step, a political union," she told the congress, as cited by the agency.However, with a recent report by the influential Lisbon Council claiming France's inability to react to present economic realities should be "ringing eurozone alarm bells," it remains doubtful that Europe will be able to collectively tackle the debt crisis and restore economic growth.  And with little agreement over the key policy options necessary to go forward, the EU summit scheduled for December 9 might very well begin to ring funeral bells for the whole European project.
You can share this story on social media: