Ex-banker Papademos to head Greek technocrat government
The 64-year-old former vice president of the European Central Bank is to lead a coalition backed by both the governing Socialists and opposition Conservatives that will operate until early elections.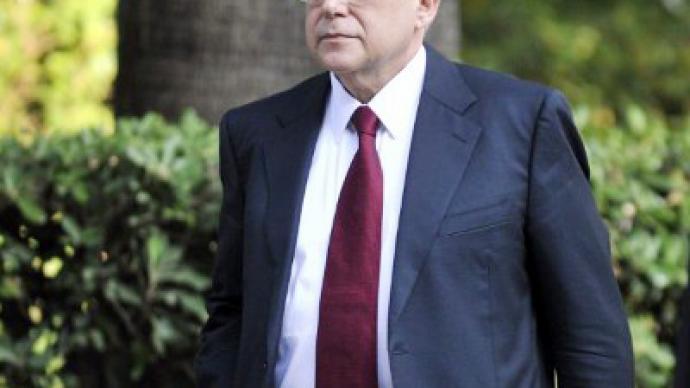 Papademos joined the talks on the morning of November 10 at the Presidential Palace where he has been negotiating a longer term for the interim government than the 100 days previously agreed on. He argued that 100 days would not be enough to secure the country's continued bailout funding.Early elections are expected to take place some time in February 2012, but Papademos emphasized that no specific date had been set. He also said that the country's economic problems could be more easily dealt with in a climate of unity and understanding among the political parties."The road will not be easy, but I am convinced that the problems will be resolved. And they will be resolved faster and with less cost and more efficiently if there is unity, understanding and wisdom," he said.A statement from the president's office said Papademos is to form an interim government that will secure and implement the decisions of a 130 billion euro ($177 billion) European debt deal agreed upon during a summit in Brussels on October 27.Papademos believes that Greece's participation in the eurozone is a guarantee for the country's monetary stability."It is a driver of financial prosperity, and the participation of the country in the eurozone, despite the difficulties that we are facing, would facilitate its economic adjustment and its development," he said.Lucas Papademos replaces the Socialist Prime Minister George Papandreou who is stepping down midway through his four-year term, amidst the ongoing debt crisis in Greece. The choice of Papademos was reached after four days of tortuous power-sharing talks between Greece's main political parties. The new cabinet will be sworn in Friday afternoon. Last week, the Greek crisis erupted with renewed force as Papandreou announced his shock decision to hold a referendum on the hard-fought European debt deal. Apart from financial aid, the deal involves private bondholders canceling 50 per cent of their Greek debt holdings. The announcement caused turmoil in financial markets, horrified European leaders and sparked a rebellion in his own party. Realizing his mistake, Papandreou withdrew the referendum plan and agreed to step aside to make way for a unity government.
Political analyst Peter Eyre believes the new Prime Minister will not change anything in Greece's economic struggles."I think we have to turn the clock back to the original collapse of the World economy because it was no accident. Ireland became a victim, Portugal and now Greece, Spain and Italy are likely to follow. It really doesn't matter who's in power, there are people, who are controlling this situation. We also have to understand that there is massive corruption, fraud and tax evasion taking place in most countries that are creating this problem," he said.
You can share this story on social media: