SOS: euro on the edge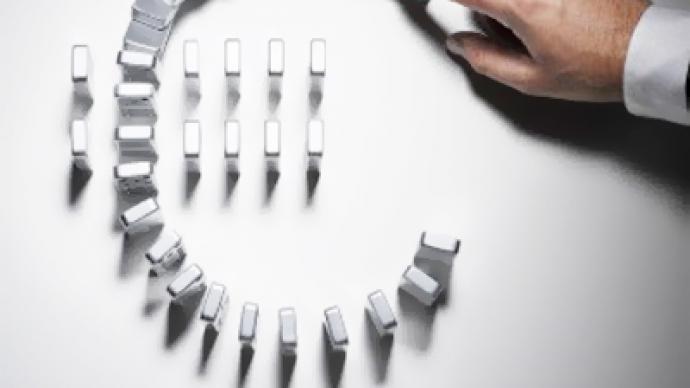 EU leaders have agreed to set up a permanent mechanism to save Eurozone economies sinking in debt. They promised to do "whatever is required" to safeguard the common currency.
In the course of their two-day summit in Brussels, EU countries have agreed to provide the stability of their common currency and set up a permanent mechanism of financial stability, due to come into force in June, 2013. The rescue mechanism will replace a temporary 750-billion-euro emergency loan facility created by the EU and the International Monetary Fund in May. The new mechanism might again involve the IMF. There is also a possibility that private investors will take part in saving countries experiencing financial trouble. Details of the future stability mechanism will become known in 2011.The new mechanism will protect the EU from emergency bailouts in the future, says economist and author William Engdahl."The mechanism is really a compromise among very different interests in the EU," he says. "And they are determined to put in a mechanism – we're not there yet – it's a tiny step in that direction. The mechanism that will ensure after 2013 that these fire-emergency bailouts will not occur in the future."
The member states are yet to ratify changes to the central treaty to make the rescue mechanism operational. While EU leaders set their hopes on a new European Stability Mechanism which they believe will get the Euro zone out of the severe crisis, the director of the Bruges group, Robert Oulds, suggests the solution is to quit using the euro and revert to countries' national currencies.
Meanwhile, there are more fears for the bloc after violent protests in Greece and high borrowing costs for Spain, which is seen as potentially one of the next members to seek an EU bailout. The mood of protest against austerity measures is at a high across Europe, with a wave of mass demonstrations and nationwide strikes sweeping of the member states over the last few months. In the UK, thousands of students took to the streets to voice their anger against government plans to raise university fees. France suffered an array of strikes against a controversial pension reform to raise the retirement age by 2 years – strikes which cost the country's economy over half a billion dollars a day.Another issue of discontent for Europeans is the news that while the struggling states are tightening their belts, EU parliament members are set to get a pay rise. In 2011, their wages are scheduled to increase to a net of around 170,000 euro, as they see their salaries rise by about 2 per cent.
You can share this story on social media: