Ukrainian hospitals gear up for Euro 2012 football fallout
Published time: 30 May, 2012 12:17
Edited time: 30 May, 2012 16:17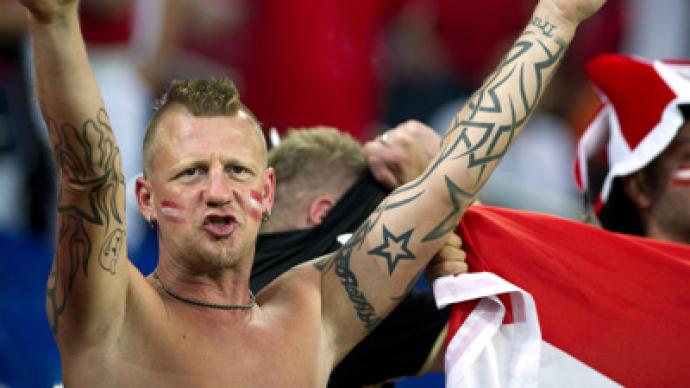 Ukraine is preparing to allocate a number of hospitals for treating foreign football fans and Euro 2012 guests only. In some medical centers, patients are reportedly being urged to "recover" fast, in order to make space for the clients from abroad.
­Ukrainian authorities believe the country is going to welcome no less than one million foreign guests during the championship.
"Our estimates of the football fans to come differ from 800,000 to 1.2 million. I think there will be no less than one million of them," Ukraine's Minister of Infrastructure Boris Kolesnikov told Interfax.

According to UEFA statistics, about two per cent of football fans at such events usually seek medical attention for various reasons. Simple calculation says that around 20,000 people will visit a doctor during the championship. They may not be seriously ill or need constant clinical attention, but having several thousand free hospital beds at the ready certainly seems like a good idea.
Kiev's Aleksandrovskaya clinical hospital is preparing its 1,200 beds for those who come to Ukraine for the football frenzy but instead end up in a medical institution.
Head doctor Roman Vasilishin revealed to Ukraine's 1+1 TV channel that "on May 31 the hospital will stop accepting patients" and "by June 7, patients who feel weak should recover and discharge from the hospital".

On Wednesday, though, the doctor disclaimed this information, saying that only fully recovered patients will leave his clinic.
"No patients are going to be discharged early or be transferred to another hospital. That's nonsense," Vasilishin said indignantly.
Ukrainian authorities intend to refurbish the hospital to European standards before Euro 2012 starts on June 8. The personnel is reportedly learning English to make communication with patients easier.
The hospital will have an additional emergency station for injured fans, should any arrive.
Apart from Aleksandrovskaya, at least five other hospitals are being prepared for foreign patients in the Ukrainian capital alone. Among them is Kiev's General Military Hospital.

Ukraine expects foreign football fans to come into the country with medical insurance. Otherwise, they should be ready to cash in for treatment or expect a bill later from the Ukrainian embassy in their home country.
The Euro 2012 European football championship will be hosted by Poland and Ukraine. The final match will take place in Kiev on July 1.