EU Parliament votes to scrap US data-sharing deal unless Washington reveals spying practices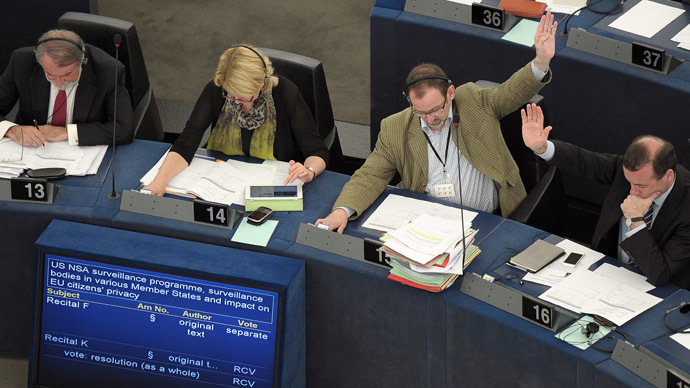 The European Parliament has called for the scrapping of two agreements granting the US access to European financial and travel data, unless Washington reveals the full extent of its spying on Europe.
The non-binding resolution, which was passed by 483-98 with 65 abstentions on Thursday, said the US should provide full disclosure about its email and communications data. If Washington fails to agree, two EU-US transatlantic information-sharing deals could be revoked.

Both data-sharing deals – the Terrorist Finance Tracking Program (TFTP) and Passenger Name Records (PNR) were agreed shortly after the September 11, 2001 attacks, despite apprehension surrounding whether or not they would give the US too much access to European data.

The TFTP provides the US Treasury with European stored data on international financial transfers, while the PNR covers data provided by passengers when booking tickets and checking in on flights. It then passes this information to the Department of Homeland Security.

Plans to abandon the agreements must be approved by EU governments and the bloc's executive Commission. While their approval looks highly unlikely, the vote served to prove the simmering anger which exists within the assembly, caused by recent NSA leaks.

Thursday's vote comes ahead of next week's talks on a potential EU-US free trade deal. The deal will be negotiated by the European Commission, but parliament can veto the final agreement. Calls from some members of parliament to suspend the talks in light of the NSA surveillance leaks were rejected.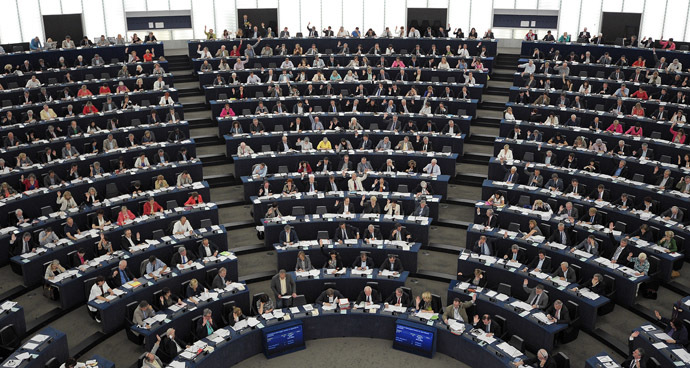 France was originally among those calling for the talks to be suspended. However, French President Francois Hollande said on Wednesday that the meetings could go ahead as planned, after the EU and US agreed to hold talks next Monday to clarify the extent of Washington's spying operations. 

The European Commission has asked the US to reveal how much data it has access to, and for what purpose. A joint EU-US expert group will be set up to discuss the matter.

Former surveillance contractor Edward Snowden revealed in May that the US runs an electronic spy operation codenamed PRISM, which he says collects data from European and other users of Facebook, Google, Skype, and other US companies. Washington later confirmed the existence of PRISM but did not provide details of the program. In a separate leak, the US was accused of eavesdropping on EU offices and officials.

Snowden has applied for asylum in 21 countries, seeking to evade US jurisdiction, but has already received rejections from ten nations. Venezuela and Bolivia say they are willing to consider his applications once they are received.

Snowden is believed to be held up in Moscow's Sheremetyevo airport. The US has voided his passport, preventing him from leaving the airport's international transit zone.

You can share this story on social media: