European instructors will teach Libyan rebels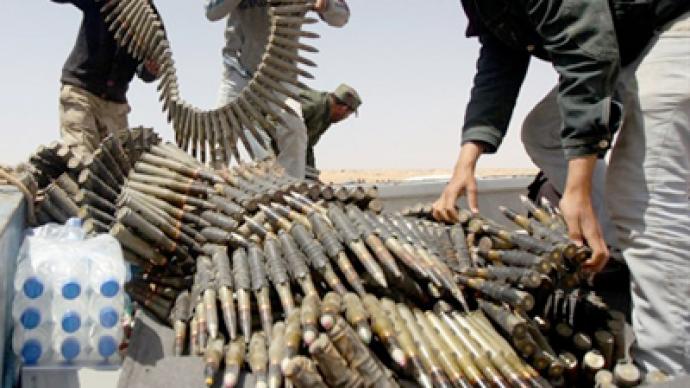 European members of the NATO-led coalition bombing Libya are sending military instructors to the rebel capital, Benghazi.
The first nation to announce such a move was Britain. On Tuesday Foreign Secretary William Hague announced the deployment of experienced military officers to Libya. The official stressed that the troops will help improve the organization of the Libyan opposition, but will not train them in combat. He did not elaborate on how the two distinguish from each other.On Wednesday France and Italy followed the UK's lead, both announcing that they will send similar contingents to the war-torn North-African country.French and Italian advisor teams will be no more than ten officers strong. Britain plans to send some two dozen, half of whom will be civilian contractors accountable to the group's commander, a colonel.Libya's Foreign Ministry said on Wednesday that the move will only delay the peace settlement in the country and the liberal reforms Triopli is pledging to implement.Earlier in April the EU drafted the "EUFOR Libya" plan, providing for troops to be used to defend humanitarian aid convoys, prompting suspicions that Europe is planning an invasion under the guise of a relief effort.Tuesday's decision is a dubious step in the wrong direction, believes John Baron, a UK conservative MP who was one of the opponents of the invasion."Putting ground troops in will clearly go beyond [the UN Security Council] resolution. It seems to become apparent that we have a no-fly zone in effect becoming an air force of the rebel fighters. And I question whether it was in the spirit of the resolution as it was originally defined," he told RT.Other critics were quick to point out that the American campaign in Vietnam started with the US sending military advisors too.UN Security Council resolution 1973, which established a no-fly zone over Libya with the goal to stop violence and civilian deaths, does not allow for a ground operation by foreign forces.
Lindsey German from the Stop the War Coalition considers the move to be a serious development which is designed to escalate the war.  She says a number of MPs in Britain have already criticized parliament.  "It is clear they [Britain and France] have very few allies when it comes to actually doing anything in Libya…I think we have to be very, very much opposed. It is not good having a whole series of governments around the world opposed to this development if nothing happens and they are allowed to continue with this… there will be people making speeches complaining about this particular development. But in general we need to mobilize public opinion much more widely."
Brian Becker from the anti-war ANSWER coalition believes the US is pursuing a selective demonization strategy, designed to prevent public opinion from having a full debate over the policy of the US. According to Becker, the US determines which government shall fall, and then they de-legitimize the government and legitimize the dropping of bombs on the country."The US is trying to take advantage of the revolt to be able to go into Libya and create a proxy government, trying to put a government in this oil-rich country to control those oil reserves," he says. "The real goal from the beginning has been to topple the regime. They never said they're going in to take oil – that would not be a very popular course. They needed to give the mission some of noble course; in this case – protecting civilians, in another case – protecting democracy or freedom or stopping terrorism  But many people see through this."
You can share this story on social media: