EU fat cats strive to slim down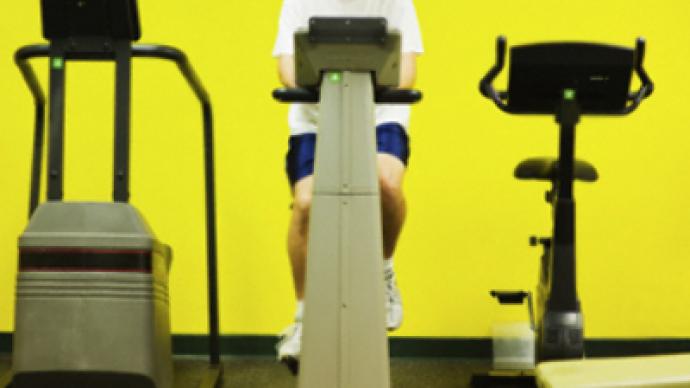 At a time when taxpayers across the continent are losing their jobs thanks to the economic crisis, the European Parliament has decided to spend billions of euros on a luxury fitness center for deputies and staff.
But is fighting flab a major priority in such tough economic times?
Although they are dealing with one of the worst recessions in the last century, European Members of Parliament (MEPs) recently decided to go through with plans to construct a whopping nine billion euro luxury sports and fitness center for their own use in Brussels.

According to the original proposal advanced in 2005, a bigger and newer fitness facility, which will feature a state-of-the-art swimming pool, aqua-gym, aerobics center, sauna and spa services, and relaxation rooms, is necessary "to ensure the daily exercise and overall health of MEPs and their staff".
Pampering the fat cats
The decision has kicked up a storm of controversy both in Brussels and beyond.

The Chairman of the Irish Libertas party, Declan Ganley, says "At a time of economic crisis and rising unemployment, it is an outrage that MEPs should vote to spend taxpayers' money in this way. It shows how out of touch and unaccountable current MEPs are."

Other money-conscious MEPs agree with him.
EU deputies from England were among the most outspoken opponents of the new swimming pool, which has a price tag of some 5.5 million euros. The English claim that 2-million-euro renovations to be done on the existing gym is already a reasonable amount of money to spend.

Anything more would be an outrage, says Richard Corbett, an English MEP for the Labour Party: 'A gym is a good idea, a new pool is a stupid idea, especially during a recession. It is totally unnecessary and unjustified."
Meanwhile, MEP supporters claim that the new and improved fitness facility will likely be paid for by private means, not public funds, although this still remains unclear. Plus, there are other advantages: according to Gerard Onesta, a French Green and vice president of the parliament, the new gym would "save money by cutting staff absenteeism by up to 30 per cent".
One Italian MEP also quipped that the new facility will be 'cost effective' because healthier parliamentarians will mean saving money on medicine, although she did say that the gym should not be paid for with taxpayers' money.
Taxpayers tell all
Not surprisingly, the European electorate is up in arms. Instead of ensuring maternity pay or guaranteed wages for those who have been laid off, MEPs will be pampering themselves in a multi-billion euro fitness complex.

'I just got laid off and the amount of guaranteed wages I will receive is half my monthly salary; I don't even know if I will be able to pay my mortgage, and MEPs are worried about their weight! They are using our tax money for their own benefit and we are the ones in the eye of the economic storm…it's disgusting," says a 31-year-old factory worker from Milan, Italy.
A retired French schoolteacher also believes that MEPs have crossed the line.

'Typical behaviour from politicians, they are just a bunch of elitists! They use our hard-earned tax money for themselves, when they should be getting us out of the crisis. Instead, they are exercising in a fancy gym or getting a massage between parliamentary sessions. They don't care about the global crisis, or what it's doing to EU workers'.
Many Europeans feel betrayed and frightened over their uncertain future, especially the English, who are experiencing one of the worst recessions in the country's history.

'All everyone here talks about is the recession; it seems to get worse and worse. MEPs, instead, will soon be doing yoga and pilates. The worst part is that we, the taxpayers, are the ones who voted in these so-called representatives!' says a 44-year-old graphic artist from London.
Even an American tourist visiting Florence agrees that building the luxury gym was irresponsible on the part of EU deputies.

'Our president just nailed top managers for having given themselves bonuses after receiving bailout funds, and I think Europeans should do the same. People in power will always take advantage if they can, so they have to be made accountable somehow'.
Pay back is a bitch
With European Parliamentary elections coming up in June 2009, angry taxpayers have the chance to show their disdain for such outrageous spending, and demand more transparency and accountability in the EU.
Leading up to the elections, Ganley says that Libertas will fight to bring democracy, accountability, and transparency to European Union governance.

"Voters have the chance to decide in June if they want to keep these fat cats in their jobs, or if they want to have a more democratic, accountable and transparent Europe", he declares.
Voters across the EU are facing that same choice.
Brenda Dionisi for RT
You can share this story on social media: