Syria faces more sanctions as EU steps in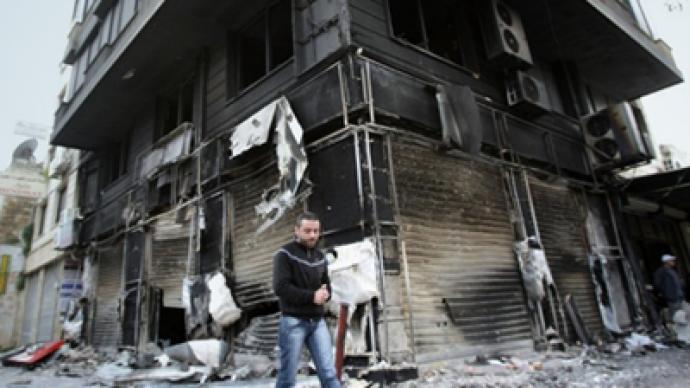 The EU has imposed an arms embargo on Syria as a result of an emergency meeting in Brussels. The first step of the international community against Assad's regime has been taken and further sanctions are due to be considered in the coming days.
According to the RIA Novosti news agency the EU ambassadors' meeting was summoned on Friday night to discuss reasonable measures against Bashar al-Assad's regime, already responsible for the deaths of more than 500 protesters.The EU is also demanding that the regime releases political prisoners and human rights defenders, as well as lifts media restrictions."The EU expresses its grave concern about the situation unfolding in Syria and the deployment of military and security forces in a number of Syrian cities," EU foreign policy chief Catherine Ashton said on Saturday, as quoted by RIA Novosti news agency. The UN has given the green light to an investigation into Syria's bloody crackdowns on demonstrations, as more than 60 people died during the "Day of Rage" in Syria with police using their full force against anti-government protesters.Human rights activists reported troops opening fire and using tear gas on people rallying after Friday prayers. Most of the casualties were in the city of Deraa, which has been under blockade since Monday. On Saturday, Syrian government forces reportedly shelled parts of Deraa and stormed its main mosque, resulting in at least four new deaths.Despite the concerns that President Assad might turn to Iran for help, the United States has also imposed sanctions on Syria, targeting top Syrian officials and the Syrian president's relatives.The five people listed in the sanctions, signed by Barack Obama on Friday, included Bashar's brother, Mahir, and one of his cousins, Atif Najib.US sanctions also extend to Syria's intelligence agency and Iran's Revolutionary Guard, banning Americans from doing business with these groups and freezing any assets they have in US jurisdictions.Syrian troops and tanks first swept into Deraa on Monday to quell pro-democracy protests against al- Assad that have spread across the country.  Karen Kwiatkowski, a retired US Air Force Lieutenant Colonel, says the US is already pretty tied down with the three operations it already has, but regime change with regards to Syria and Iran has been a long-term US policy. "We can't afford the three [operations] that we have," says Kwiatkowski. "So, in some way, the sensibility of what you can pay for doesn't really apply to the US. We are running on debt, we are printing money through the Federal Reserve, we are funding these operations. We can't afford them now.  In some way, we have to be concerned that financial strain is not going to limit what the US can do and certainly, we have a great belief in our technical capability," she adds.  "It is not a secret – a long-term agenda for the US is regime change in Syria. A long term goal, that has been pursued for a long time, is to have a network of military bases throughout the Middle East from where we can operate at will, without asking for permission of whatever regime.  To expand our capability to move freely throughout the region for two purposes – oil and Israel, " she concluded.
American radio host Stephen Lendman believes that the response of the Syrian government to Washington's intervention has been very robust."There've been some reports about US intervention – recruiting criminals to get out on the streets across Syria and incite violence," Lendman claimed. "The way Syrian government is responding is sound."Lendman says that Iran is actually the real target."The aim is to de-link the countries in Iran's orbit," he said. "They want Iran to be separated and kept alone, de-linked from the other allies."Still, Lendman admits, war has always been the last option for the US, and they are not going to start a war if their objectives can be accomplished in other ways.Meanwhile, he says the prognosis for Libya is extremely bad."I think the war will continue until Gaddafi is out," Lendman said. "The ideal is to have one of those missiles have a lucky strike and kill Gaddafi."
You can share this story on social media: