Erdogan: Israeli strike on Iran would 'devastate' Middle East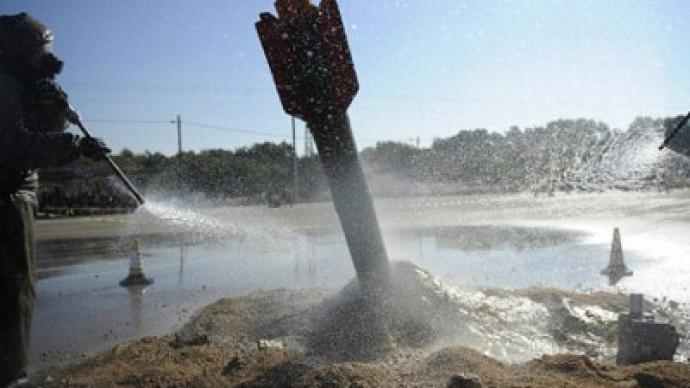 An Israeli strike against Iran would have "disastrous" consequences for the entire region, says Turkish Prime Minister Recep Tayyip Erdogan. Earlier, Israel spoke of a three-month deadline for Iran to give up its nuclear ambitions.
"Israel should not attack Iran," Erdogan told reporters after returning from a two-day official visit to Tehran. "The entire region would be devastated," he added, the Turkish newspaper Today's Zaman cites him as saying.Erdogan says he shares concerns over the consequences of a possible Israeli attack on Iran with US President Barack Obama. Such an assault might trigger a regional war, which "would not end up like the war between the US and Iraq," the PM said. Erdogan has also slammed the international community for turning a blind eye on Israel's alleged nuclear arsenal while cracking down on Iran over its peaceful energy program, reports Hurriyet, another Turkish newspaper. "Israel has 250-300 nuclear warheads. Nobody is discussing that," Erdogan pointed out. "Iran says they would not produce nuclear weapons. They are saying that they would produce a specific amount of enriched uranium rods and stop after that." After Erdogan's visit, the Iranian Foreign Ministry stated Turkey had offered to host talks between Iran and the major world powers to smooth sky-rocketing tensions over Tehran's alleged pursuit of nuclear weapons.  Israel has not yet ruled out a strike on Iranian nuclear facilities – a stance reaffirmed by Israeli Foreign Minister Avigdor Lieberman during his visit to China in mid-March. China, together with Japan, the US, UK and recently Australia, have urged Israel to refrain from any military provocation against Iran. The Obama administration maintains Israel should allow more time for tough sanctions and diplomatic efforts to sink in before resorting to airstrikes.  But authorities from the Jewish state remain adamant in reserving "their right to defend themselves." Israeli Prime Minister Benjamin Netanyahu has labeled Iran "an existential threat" to Israel. At the same time, indications have emerged that Israel might send drones to Iran before mid-summer. Israeli news outlet Debka reported in March that Israeli Defense Minister Ehud Barak had spoken of a three-month deadline for Iran to give up its nuclear ambitions. Barak also said that that Israel should act quickly if it planned to attack Iran.
You can share this story on social media: