Elderly patients in UK could survive cancer if age discrimination barrier broken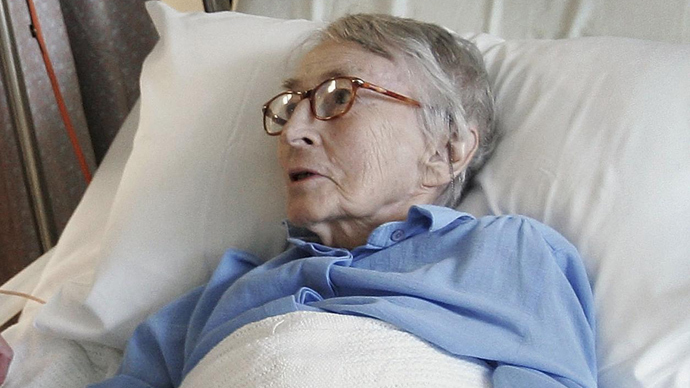 Survival rates in older people suffering from cancer in the UK are among the worst in Europe, campaigners say. The elderly are being written off as too old to treat even though new research shows that over 65s can survive for many years after cancer.
Over 130,000 patients in the UK have survived for at least 10 years after being diagnosed with cancer at 65 and over, according to new research by one of the largest British charities, Macmillan Cancer Support, and the National Cancer Intelligence Network (NCIN). The research, hailed as the first of its kind, also reveals that there are over 8,000 people alive today who have survived for at least 10 years after being diagnosed at 80 or over.
The figures prove that with the right treatment, over-65s in the UK can live for years after cancer. If UK survival rates in this age group were not so poor, this number would be even higher. This is the view of Macmillan Cancer Support, as stated on its website, noting that "too many older patients in the UK are being assessed on their age alone and not their overall fitness."
Cancer survival statistics in Britain lag behind countries boasting best survival rates, such as Norway, Finland and Sweden. The analysis, published in the Lancet Oncology in December, was based on data of survival for over 10 million cancer patients from 29 countries, diagnosed up to 2007 and followed up to 2008.
A major international study showed that for a number of common cancers, such as prostate, breast, lung, stomach and kidney, just to name a few, the UK and Ireland have a lower five-year survival rate than the rest of Europe, and the gap looms even larger for patients aged over 75. Compared with the rest of Europe, the UK and Ireland had the lowest survival rates for elderly patients. While lung cancer is the most common cause of cancer deaths in elderly men and women, accounting for around a fifth of all cancer deaths, the survival rate for lung cancer in the UK and Ireland is 44 percent worse for pensioners aged 75 or over, it turned out.
According to Cancer Research UK, more than three-quarters of cancer deaths in 2009-2011 in the UK occurred in those aged 65 and over, and more than half in those aged 75 and over.
A 78-year-old cancer survivor from the West Midlands region of England, Staffordshire, was diagnosed with renal cell carcinoma back in 2000, and has suffered from every side effect imaginable.
"I never really had any aftercare because I have always been treated as end stage," Gerald Shenton told the cancer charity. "I was turned down for a possible treatment twice, being told unofficially that it was because of my age, although I did finally get some good emotional support through my hospital," the elderly man was quoted as saying.
Survival is generally lower among older patients than younger patients, the Office for National Statistics states. According to the chief executive of Macmillan Cancer Support, many thousands of pensioners could live longer, if the UK's survival rates for over 65s matched those in comparable countries.
"The barriers to getting treatment – which include age discrimination and inadequate assessment methods – must be tackled now so more older people can survive cancer and live for many years," Ciarán Devane stressed.
Macmillan Cancer Support, which provides specialist health care and financial support to people affected by cancer, has urged health providers in Britain to adopt assessment methods that test a patient's physical and mental wellbeing, to make sure that essential treatment decisions aren't primarily based on age alone.
You can share this story on social media: