Road rage: Russians up in arms over corrupt, incompetent road builders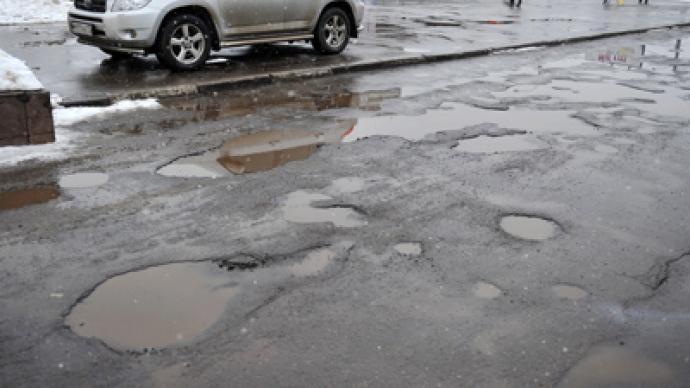 In their fight against corruption in road building, which costs the country billions of dollars, Russians are resorting to ever more exotic means, just to be noticed. The latest is sending a parcel of badly-laid asphalt to the officials responsible.
Photographer Vladimir Zadumin was driving over a newly-renovated bridge in his native Yekaterinburg, in the Urals, when he noticed "the road surface was crumbling underneath the car, with specks coming off, and even a huge chunk of the road."Zadumin, who documented the incident (with photos) on E1, a city blog, said he grew so enraged that he picked up the large chunk of asphalt, went to the local post office and sent it to the city manager of Yekaterinburg, Aleksandr Yakob, together with a note."Dear Aleksandr Edmundovich! I ask you to accept this and find a prominent place to display this, as concrete evidence of your work," read the letter.
The city administration say they have received no parcel or complaint.The bridge had been closed for a year between the summer of 2011 and 2012 for major renovation works. Police records show that an investigation for misappropriation of public money and failing to fulfill terms of contract was opened against the construction company in September. No one has been charged so far.Zadumin's choice of bridge to highlight is not accidental – it is the first step in the construction of a new junction that has sparked intense controversy in Yekaterinburg. Estimated to cost over $200 million dollars when works begin next year, worried citizens believe that the quality of the roads will be similar, while costs – paid out of the city budget – escalate over a period of years. Attempts to bring officials to account over how the money will be spent, have resulted in the project being reviewed several times, but with the cost remaining high.
Paved with goldZadumin's tale could be the subject of a lightly ironic sketch about provincial neglect, incompetent bureaucrats, and the outrage of a decent man – if only the problem weren't so endemic.In just one survey conducted since the beginning of the year, state prosecutors say they have identified 40,000 contraventions of legal standards. Common faults range from substandard building materials, to illegal road markings to lack of overhead lights, where building contracts claim they are supposed to be. On several occasions officials came to inspect existing roads only to find out that they have not been built at all, despite being present on local maps.One in five accidents in Russia are caused by poor road condition.Russians are also paying record-breaking prices for their roads. While one kilometer of road in China on average costs $3 million to build, in Europe $6 million, in Russia the figure is $13 million, predicted to go up to $18 million in the latest country-wide construction plan.A single, as yet unfinished toll road in St.Petersburg has so far cost more than $180 million per kilometer.A board of industry insiders recently told Forbes magazine that the construction price is routinely overestimated by up to 30 percent, with the money flowing straight into the pockets of the contractors, or the relevant officials, in the form of kickbacks.Once in use, the final price is even higher. Technical specifications state that surfaces even in the harsh Russian climate should on average be re-laid no more often than once every 8 to twelve years. Instead, unless maintenance is part of the original project, contractors often siphon money off the government by relaying road surfaces every year, using poor concrete on purpose to justify next year's repairs."If an official decided to build good quality roads, he simply wouldn't be allowed to do it. This is a lucrative business for both sides – the clients and the contractors," Sergey Aslanyan, a well-known transport expert, told Noviye Izvestiya newspaper.A World Bank report estimated that between $25 and $55 thousand dollars are spent on each kilometer of road in Russia yearly, compared to $9 thousand in neighboring Finland, a country that experiences similar temperatures.
Making inroadsCar owners – who have been at the forefront of Russia's civil society – have struck back.Small groups of activists, often originating from auto message boards, have sprung up in every major city, performing regular stunts to attract local media attention and shame bureaucrats who would rather remian in the shadows.Processions through the city center, with beeping horns and posters urging citizens to pay attention to a particular issue, have become regular sight.Some are more elaborate. In Volgograd earlier this year, disgruntled motorists created a Walk of Fame, where every pothole on one of the roads had a star painted around it, dedicated to a specific official in the local administration.
In several cities activists have joined road-building projects as volunteers, photographing the ongoing works and posting them on the internet, as well as reporting faults – the job already assigned to existing (fully-paid) officials.While noticeable and broadly supported, it is unlikely these one-off efforts will be sufficient to reverse wider patterns of corruption and incompetence in the country's civic governance.In its latest Corruption Perception Index, Berlin-based think tank Transparency International ranked Russia 133rd out of 176, on a par with Honduras, Iran and Guyana.
Igor Ogorodnev, RT