Former Egyptian spy chief Omar Suleiman dies in US - reports
Published time: 19 Jul, 2012 09:02
Edited time: 19 Jul, 2012 14:44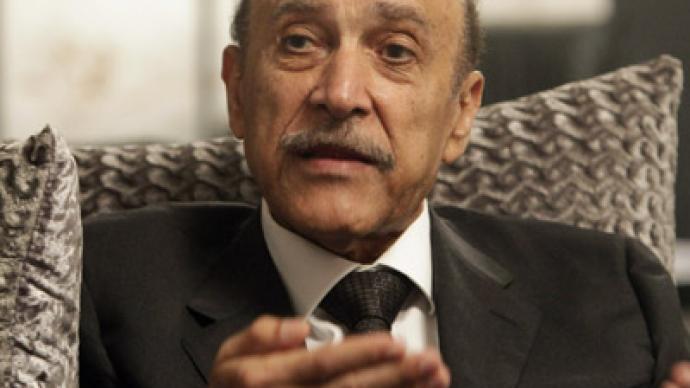 Hosni Mubarak's long-term intelligence chief Omar Suleiman, who also briefly served as the country's Vice President before the former president's ouster, has died in the US, state-run news agency MENA reported Thursday.
Suleiman, 76, died in a US hospital Thursday morning, according to the report which did not immediately give details about the cause of death.
"He was fine. It [his death] came suddenly while he was having medical tests in Cleveland," Reuters quotes the aide, Hussein  Kamal, as saying.

Kamal, however, also failed to provide a reason for Suleiman's death.

Preparations are under way to bring Suleiman's body back home for burial, he said.
Initially traveling to Dubai, Suleiman later headed to Germany and then on to the US for treatment, General Saad al-Abbassi, a member of Suleiman's presidential campaign team, told AFP news agency.

"His health deteriorated recently. He was in the United States with his family," said Reem Mamdouh, another member of the team.

A close ally to Hosni Mubarak, Suleiman became deputy head of military intelligence in 1986 and later its director in 1991.

In 1993, he became the chief of the Egyptian General Intelligence Service – another branch of the Egyptian intelligence community.
On 29 January 2011, Suleiman was appointed to the long-vacant Vice Presidency by then-President Hosni Mubarak.
On February 11, 2011, Suleiman announced Mubarak's resignation and ceased being Vice President. Governing power was subsequently transferred to the Armed Forces Supreme Council, of which Suleiman was not a member.
Suleiman tried to join the race for the country's presidency in April, but Egypt's central elections committee ruled that as a Mubarak-era official he would not be able to run in the presidential race.