Egyptian unity talks postponed due to 'lack of response' to invitation
Published time: 12 Dec, 2012 10:57
Edited time: 12 Dec, 2012 23:05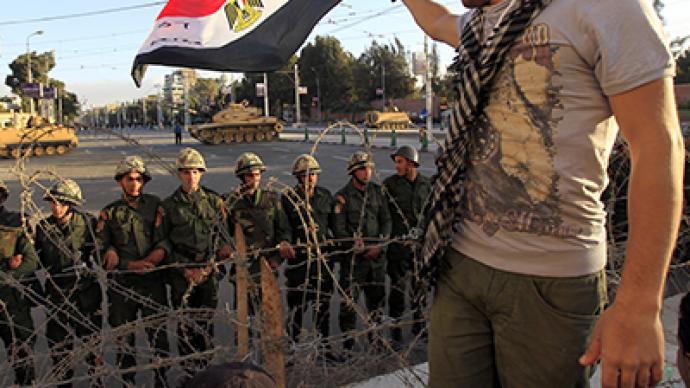 Egypt's defense minister has postponed unity talks between political rivals until further notice. A military spokesperson told MENA news agency that the decision was made because the "response to the invitation was below expectations."
The talks were designed to discuss ways of calming tensions in the country. President Mohamed Morsi is pushing for a constitutional referendum vote despite a judicial boycott and opposition rallies.

The unity talks will not touch upon politics or the contentious referendum on a recent draft constitution, the country's top brass says.

Morsi and his supporters previously said they would attend the meeting. Leading members of Egypt's opposition, including Mohamed ElBaradei, Amr Moussa, and Hamdeen Sabahy, also plan to take part in the talks.

The opposition alliance has urged supporters to vote "no" in the referendum but says it may boycott if conditions are not met. 
Sabahi, one of the leaders of the National Salvation Front, said the alliance would encourage its supporters to boycott if judges are not overseeing the vote and the state does not provide security at the polls.

"It's a situation where if [the opposition] did maintain the call for the boycott, the vote would inevitably go in favor of the Freedom and Justice party government of President Morsi," editor of Pan-African News Wire, Abayomi Azikiwe, told RT.

The group boycotted a previous call for talks initiated by Morsi's camp over the weekend.
"The constitution is a decisive battle but not the final one. We will keep on fighting for our demands and for Egypt to become a country for all. This will not be the end," spokesman for the Free Egyptians Party, Ahmed Khairi, told AP. 
Meanwhile, Islamists who support the constitution are distributing flyers urging a "yes" vote.

The negotiations will be held against the backdrop of a country currently in the grips of its worst political crisis since the fall of President Hosni Mubarak's regime almost two years ago.
Morsi unexpectedly signed a decree giving himself unprecedented powers in November, which prompted hundreds of thousands of Egyptians to take to the streets in a protest. After several weeks of political wrangling and a series of pro and anti-Morsi demonstrations, the president agreed to relinquish the sweeping powers on Sunday.
Amidst the turmoil, which turned violent on several occasions, the Egyptian Islamist leader set the date for a constitutional referendum. The position criticized the draft constitution as undemocratic and largely based on Sharia law.
The crisis continued with many judges refusing to oversee the future referendum. In response the president split the voting into two parts on Tuesday, which are now to be held on December 15 and December 22. Early voting outside of Egypt already kicked off on Wednesday.
Morsi also introduced several other measures meant to defuse the crisis, including empowering the Egyptian military to perform police functions and scrapping tax hikes that were meant to secure a $4.8 billion loan from the International Monetary Fund.