At least 19 dead, more than 100 injured in Egypt train derailment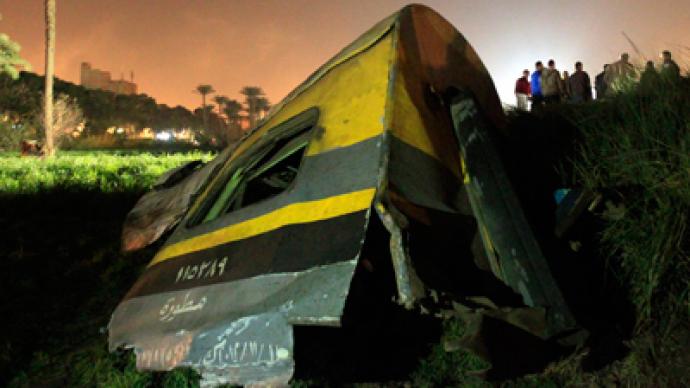 Two passenger train cars derailed outside Cairo after midnight on Monday, killing 19 people and wounding 107 more, health officials said. The 12-carriage train was reportedly carrying 1,328 army recruits from Assiut to an army camp in Cairo.
Health Ministry officials said the injured had already been taken to hospitals near the accident site in the Badrasheen neighborhood of Giza. No information has been released on the dead, except for the names of the hospitals where their bodies were taken, MENA reported. The number of fatalities is expected to rise, officials said. An anonymous security official also told Ahram Online that many of the wounded were in critical conditionOne survivor of the crash, army recruit Roy Hamad Gaafar, witnessed his colleagues die when the two train carriages detached and derailed. "I saw my colleagues' body parts strewn on the tracks,'' he told Ahram Online.Images from Egyptian satellites show residents participating in rescue efforts to extract the trapped and wounded. Health ministry spokesperson Ahmed Omar told MENA that 66 ambulance cars had been sent to the site in order to provide first aid, and to transport the bodies of the injured and dead to hospitals.Two weeks ago, Egyptian President Mohamed Morsi named a new transportation minister, also a member of the ruling Muslim Brotherhood, after the post was vacated following a November accident in which a train collided with a school bus, killing 49 kindergarteners.Dozens were killed in accidents during the rule of ex-President Hosni Mubarak due to the poor safety of Egypt's roads and railways. The worst disaster took place in February 2002 when a train heading to southern Egypt caught fire, claiming the lives of 363 people. Official statistics report that more than 7,000 people were killed in 2010 in road and railway accidents. Many Egyptians have blamed the government for corruption and for underfunding transport services, especially in the country's provinces.
You can share this story on social media: