Egyptian lawmakers don't want US aid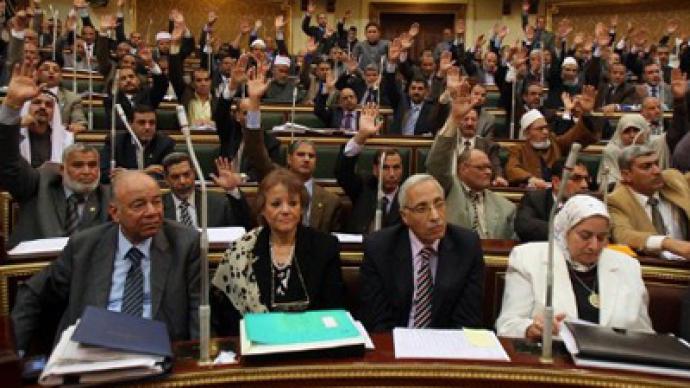 In the wake of the NGO funding scandal the Egyptian parliament is to consider cutting more than $1 billion in US aid along with putting the military-appointed interim government to a vote of confidence.
The move by the lower chamber of the parliament comes after the March 1 departure of six American defendants in the case, leading to accusations that US pressure had led to interference in the judicial process.The People's Assembly urged that the person who allowed the Americans to leave Egypt be put on trial and declared its desire to refuse massive annual aid from the United States, Al-Ahram daily reports."We hope that members of the American Congress listen carefully to the decisions of the Egyptian parliament – the parliament of the revolution -and know quite well that the Egyptian people will never accept tinkering with the sovereignty of Egypt or American assistance to be used to humiliate it," parliament speaker Saad El-Katatni said as quoted by the paper.Socialist El-Badri Farghali, said "Egypt should stop obtaining assistance from America because this is not assistance from America to Egypt but from Egypt to America, and we want to uncover the names of all those who were involved in receiving money from this assistance."However, the move by the recently-elected parliament could have only symbolic significance as the ruling Supreme Council of the Armed Forces, which heavily relies on the US aid, will most likely veto it.Also on Sunday the lower chamber called for putting the interim government of Kamal El-Ganzouri to a vote of confidence saying that it should be replaced with a coalition government that reflects the make-up of the Islamist-dominated parliament. This came after four cabinet ministers briefed the legislators on the case.The minister of justice, Adel Abdel-Hamid, who attended the Sunday session told the lawmakers that the issue of lifting the travel ban on the Americans is now a matter of investigation by the Supreme Council of Justice.The trial of NGO workers suspected of illegally using foreign funding and fomenting unrest has plunged US-Egyptian relations to their lowest point in 30 years.
You can share this story on social media: