Egyptian military seeks to undermine Hamas, plans cooperation with Fatah – report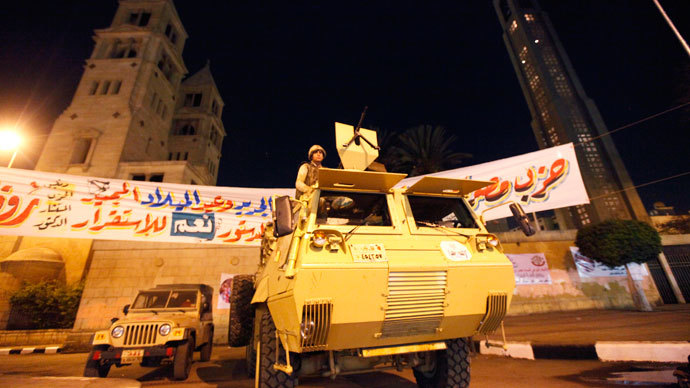 After cracking down on the Muslim Brotherhood and deposing Islamist President Mohamed Morsi, the Egyptian military is looking to undermine Hamas in Gaza as it "threaten its national security," Reuters reports.
Egypt's long-term plan includes working with Hama's political rivals Fatah and backing anti-Hamas activists in Gaza, which has been under the Palestinian militant group's control since 2007, four diplomatic and security officials told the news agency.
Mass protests, similar to those across Egypt that resulted in ouster of two presidents since the Arab Spring started in 2011, will be one of the main tactics to cripple Hamas, the officials said.
"The aid Egypt will mainly provide to the anti-Hamas groups will be logistical, not financial," one of the top officials said.
Egypt's military hopes that the crackdown on Hamas, which it insists threatens Egypt's national security, may be turned around against the group's leadership.
"Surely, the world will not stand still and allow Hamas to kill Palestinians. Someone will interfere," said the Egyptian security official. "But so far we are only working on firing the first spark."
Egypt accuses Hamas of backing Al-Qaeda-linked militant groups which attacked security forces in Egypt's Sinai Peninsula over the past few months as well as spreading violence to Cairo and other cities.
The military also accuses Morsi, the deposed president, and his Muslim Brotherhood of supporting Hamas and having long-lasting links to it.
"We know Hamas is the Brotherhood and the Brotherhood (members) are terrorists and no country could develop with terrorists in or around it," the security official said.
Many Egyptians believe the Brotherhood even intended to give Hamas part of the Sinai – an allegation that the group has denied.
As Egyptian security officials see it, undermining Hamas in Gaza means being liberated from "the terrorism of the Brotherhood."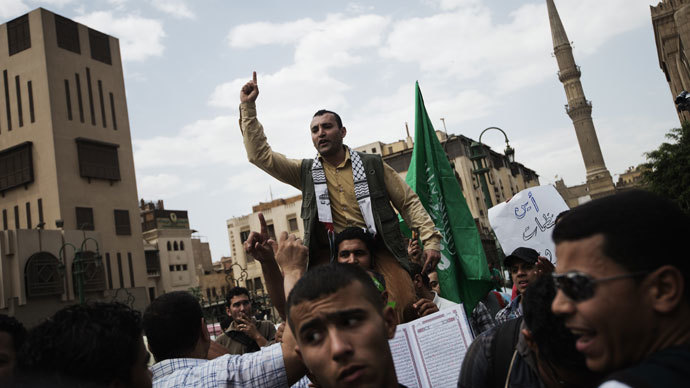 Last month, the Egyptian government formally declared the Muslim Brotherhood a terrorist organization and accused it of being behind of an attack that killed 16 people in December.
Hamas denies accusations of terrorism, however, and the Muslim Brotherhood insists it is committed to peaceful activism. Hamas has repeatedly said since the July military takeover that it has no armed presence in Egypt and that its main goal is confronting its arch-foe Israel.
"We do not intervene in Egyptian internal affairs," Gaza prime minister and Hamas deputy leader Ismail Haniyeh said last month. "Egypt cannot do without us and we cannot do without Egypt. This historical, geographic and security link can never be severed."
A Hamas official told Reuters that the group "did not and never would intervene in internal Egyptian affairs."
"No one should ever dream to weaken Hamas," he said, blaming Cairo of inciting violence and trying to provoke chaos.
The Egyptian officials dismissed Hamas's comments, saying that their judgments were not based on what the movement's leaders say, but on "intelligence and information."
Meanwhile, as Egyptian security officials plan close cooperation with Fatah and claim there have been discussions of ways to help Fatah undermine Hamas, a senior official of Fatah denied any plot to crack down on the militant group.
"There is a lot of anger in Gaza. People are suffering, but protest is not easy. We cannot hope that Hamas will vanish tomorrow," he said.
Cairo also hopes that "other armed groups in Gaza that are not on good terms with Hamas" will be also useful in accomplishing its anti-Hamas plan.
The newly-revealed intentions, if fulfilled, would not be the first crackdown to affect Gaza directly.
The military-backed regime in Cairo has already tightened its economic vise on the neighboring region by destroying a majority of the 1,200 tunnels under the border between Egypt and Gaza that are used to smuggle weapons and food into the coastal Palestinian territory, which is also being blockaded by Israel.
You can share this story on social media: