Palestinian toddler dead as Israel sends jets, tanks in retaliatory Gaza op
Israeli warplanes have carried out an airstrike in the Gaza Strip in response to the fatal shooting of an Israeli civilian, the Israel Defense Force has confirmed. At least one Palestinian has been reportedly killed in the strike.
Hospital officials cited by Reuters said a 3-year-old girl was killed by shrapnel in al-Bureij camp in the central Gaza Strip as she was standing with her family outside their home.
Three relatives of the girl, including two young siblings, were also reportedly injured.
According to Hamas Health Ministry official Ashraf al-Kidra, a total of 10 people were wounded in the strikes.
Update: In response to fatal terror attack against Israeli civilian, IDF targets terror sites in the Gaza Strip

— IDF (@IDFSpokesperson) December 24, 2013
Following the strike, the Israel Defense Forces (IDF) issued a statement saying IAF aircrafts and IDF tanks and infantry targeted "terror sites in the Gaza Strip" including a weapons manufacturing facility, "terror" infrastructures, and a concealed rocket launcher.
The Israeli military added they scored "direct hits" on the targets.
The statement said the strike was launched in response to the "first Israeli civilian killed in the vicinity of the Gaza Strip since Operation Pillar of Defense." The IDF said the Palestinian militant group Hamas, which rules Gaza, was responsible for the death.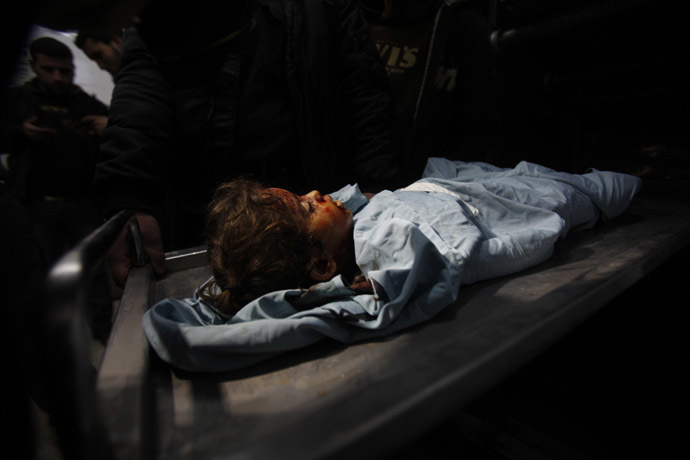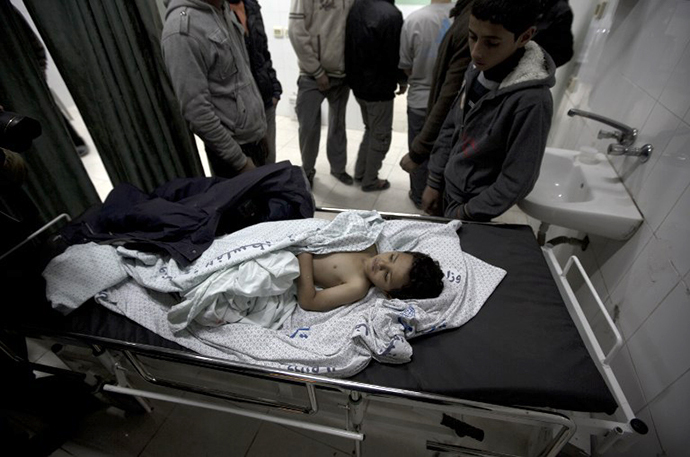 Hamas has condemned Israel's Tuesday attack, calling it a "cowardly" act.

"The occupation will not terrify the Palestinian people by these actions and will not punish our resistance and will not halt its readiness to respond to any attacks on Gaza," Hamas spokesman Sami Abu Zuhri said.
Hamas officials said Israeli aircraft bombed the group's training camps in Khan Younis and al-Bureij.
The strikes come after a deadly cross-border sniper shooting into Israel's territory which took place earlier on Tuesday. The victim was identified as a 22-year-old tractor driver, Salah Shukri Abu Latyef, who was doing a maintenance work on the Gaza border fence at the time of the incident. There was no immediate claim of responsibility for the attack, however.
Israeli Prime Minister Benjamin Netanyahu called the shooting "an extremely grave incident" that the Israeli government "will not ignore". Netanyahu added Israel will "respond forcefully".
There is unceasing tension between Israel and Hamas-governed Gaza, despite the November 2012 truce. Recent spates of border- and terror-related incidents in Israel, for which radical Palestinian groups have routinely been blamed, have only increased such tension.
The shooting followed two other suspected Palestinian attacks: a bus bombing near Tel Aviv on Sunday that caused no casualties and the wounding of an Israeli policeman in a stabbing on Monday. The Israeli military, however, did not connect the incidents to the Tuesday attack, though said were taking "a most severe view of them."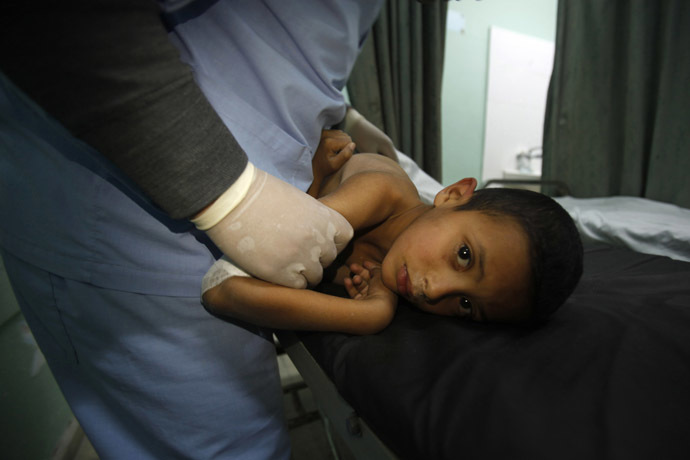 Earlier on Tuesday, a Palestinian was shot dead in a separate incident on the northern Gaza border, according to hospital officials cited by Reuters. IDF claimed the man was handling an explosive device near the security fence and that soldiers fired at him after warnings.

On Monday, an explosive device went off in a bus in the Israeli coastal city of Bat Yam after all passengers were evacuated and a police bomb squad arrived to inspect a suspicious bag. No one has taken responsibility for the blast.
Defense Minister Moshe Ya'alon advised Hamas "not to test our patience."
"If there won't be quiet in Israel, there won't be quiet in Gaza either," Ya'alon said.
#Israel bombing all over #Gaza At least 6 heavy explosions in past 15 minutes #GazaUnderAttack#IsraeliTerror

— Hanine حنين (@Hanine09) December 24, 2013
#Breaking| #Israeli planes bombing civilian sites in #KhanYounis in southern #Gaza .. pic.twitter.com/PjeVf9L00x

— AbedAziz-Gaza (@ReturnPal) December 24, 2013
Meanwhile, Israeli soldiers have been sweeping the area bordering Gaza in an attempt to uncover more underground tunnels, which the IDF says are used by Palestinians for smuggling and infiltrating into Israel.

This is not the first time that Israel has struck Gaza since the Egypt-brokered ceasefire deal which followed eight days of targeted strikes on the Gaza Strip in November 2012, during what the IDF referred to as Operation Pillar of Defense. Several mortar shells fired from Gaza have also landed in Israeli territory since the truce was signed, although no casualties occurred.

At least four Hamas militants were killed in an Israeli airstrike on November 1, while another series of IDF "retaliatory" strikes devastated two suspected terror facilities in South Gaza on November 20. Local media later identified the sites as chicken farms.
UK-based defense consultant Moeen Raoof believes such a disproportionate response on Israel's part cannot be justified.
"There are political or diplomatic means that they can use to deescalate the situation rather than use disproportionate force on people who have no effective army and cannot fight," he told RT.
You can share this story on social media: