Over 80 dead, hundreds injured in Egypt clashes - Health Ministry (PHOTOS)
In Cairo, at least 72 people are dead and 748 injured after security forces attacked supporters of ousted President Morsi, Egypt's Health Ministry says. Fuhrer 9 people have been killed in clashes in Egypt's second-largest city Alexandria.
Follow RT's live updates on post-coup violence in Egypt 

The Muslim Brotherhood puts the death toll at over 120 with over 4,000 injured across the country.

The casualties were taking part in a pro-Morsi rally when they were attacked by members of the security forces, the Brotherhood alleges. They used tear gas to disperse the activists, the Egyptian Interior Ministry has confirmed. 
"They are not shooting to wound, they are shooting to kill," Muslim Brotherhood spokesman Gehad El-Haddad said to Reuters, adding that demonstrators had been hit by gunshot in the head and chest. 

MB spokesman Ahmed Aref: 127 people killed in attack on Rabaa

— Sharif Kouddous (@sharifkouddous) July 27, 2013
The Muslim Brotherhood claims that 66 of the people killed in the bloodshed where participating at the sit-in at Cairo's Rabaa al-Adawiya mosque, demanding the reinstatement of President Morsi.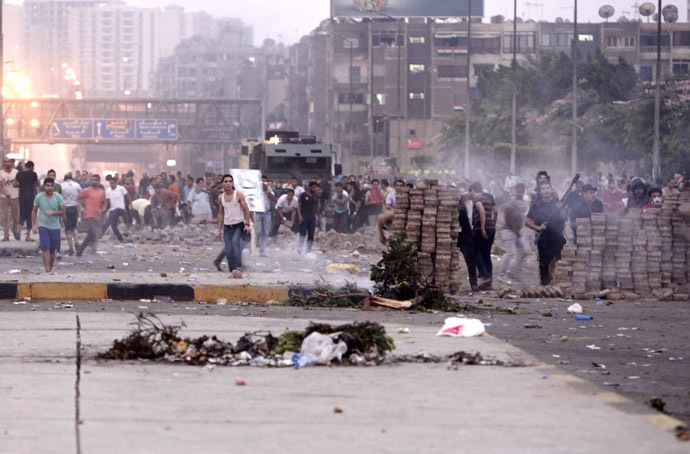 During Friday night massive rallies were held in the Egyptian capital by Morsi supporters and his opponents. Egypt's military has urged Brotherhood supporters to get behind their new plans for new elections. 
Following the mass killing of protesters on Saturday the Obama Administration expressed its "concern" over the current situation in Egypt.
US Secretary of State John Kerry called on the authorities to "respect the right of peaceful assembly and freedom of expression."
The fresh violence follows the detention of ousted President Morsi over suspected links with Hamas. Morsi has been detained for 15 days and will be subjected to questioning over suspicions Hamas helped orchestrate his escape from prison in 2011 during the uprisings that ousted his predecessor President Hosni Mubarak.

The Muslim Brotherhood called the allegations "ridiculous" and said Morsi's detention marked a return to Mubarak's repressive regime. 
Meanwhile, UN Secretary-General Ban Ki-moon has condemned the violence. He called on security forces to respect the right to free speech and assembly, and requested that protesters demonstrate peacefully.

"The Secretary-General once again calls on the interim authorities to assume full responsibility for the peaceful management of the demonstrations and ensure the protection of all Egyptians," Ban's press office said in a statement.

Since President Morsi was removed from office by the military on July 3, dozens of people have died in mass protests. In some of the worst violence since the unrest began in Egypt, 50 Morsi supporters were gunned down at a Cairo barracks on July 8 by security forces.