Pro-Morsi protester killed in fresh Cairo violence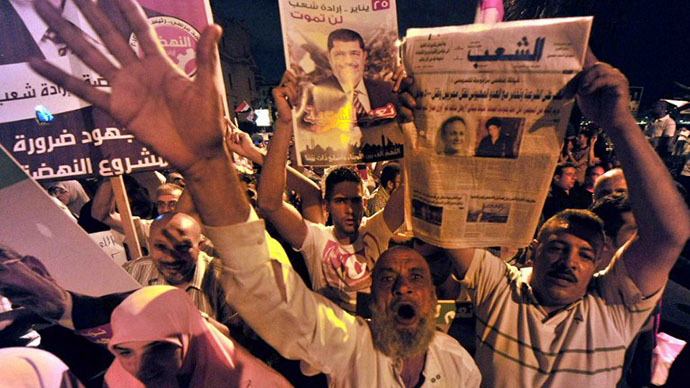 At least one person has been shot dead and another 11 people wounded in Egypt clashes, security sources told Reuters, with pro-Morsi activists accusing police in civilian clothes of firing on their march.
One Muslim Brotherhood Member has died as opponents and supporters of ousted President Mohamed Morsi engaged in street fighting in downtown Cairo.
As demonstrators threw rocks at each other, law enforcement fired rounds of tear gas, to stop further escalations of violence. 
Reuters also reports that according to the Muslim Brotherhood, Egyptian policemen dressed in plain clothes fired live rounds at one of its marches in Cairo.
Clashes between the pro-Morsi camp, local residents and police, also erupted earlier on Tuesday in central Cairo that resulted in hurling rocks as police used tear gas to stop the scuffles.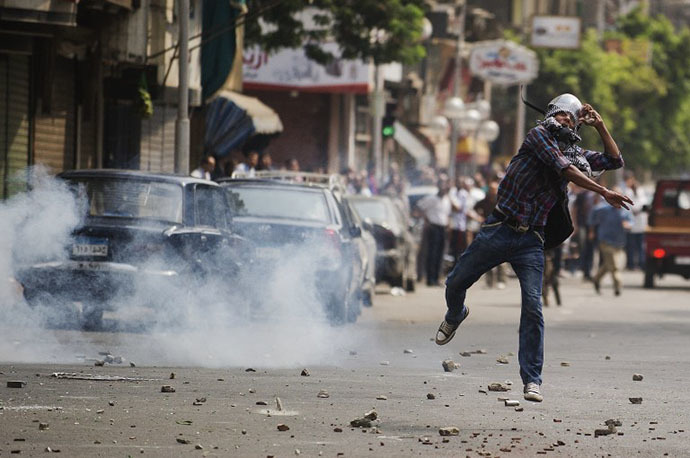 The fighting started when religious scholars associated with the Muslim Brotherhood entered the religious endowments ministry but were escorted out by the police, a security official told AFP.
The ousted scholars were then replaced by the pro-Morsi protesters as thousands marched to the Interior Ministry, vandalizing shop fronts.  The violence started when residents intervened, with birdshot fired from both sides. The clashes spread to several streets and brought Cairo traffic to a standstill.
"There's no going forward with negotiations, the only way is back. Morsi must be reinstated, "said Karim Ahmed, a student in a blue hard-hat who waved a picture of Morsi as he flung rocks at a ministry building, Reuters reported.

It is estimated that clashes in Egypt between demonstrators and security forces have killed more than 300 people since the end of June.
Last week, the police issued an ultimatum to the pro-Morsi sit-ins and demonstrators asking them to end their activity six weeks after the army overthrew Morsi in response to uprising against his rule.