Mob assaults Egyptian women protesting harassment, ELBaradei apologizes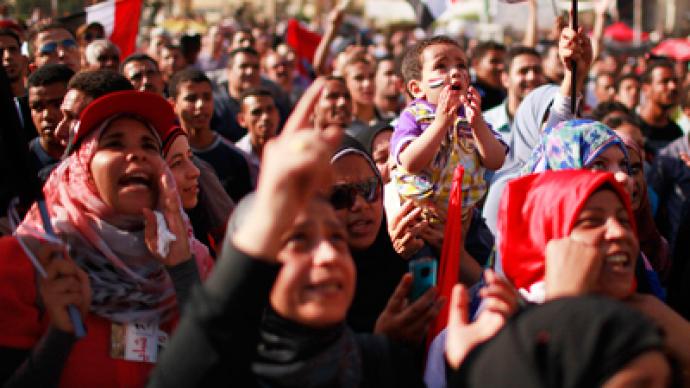 Former IAEA head and Egyptian politician Mohamed ElBaradei has apologized to women who were assaulted by a mob during a protest calling for an end to sexual harassment.
"To the women of Egypt: I apologize in the name of every Egyptian who knows the meaning of religion, values and ethics," ElBaradei wrote in his personal Twitter account late on Friday. The demo was organized by over 20 Egyptian women's groups in protest against the recent escalation of assaults in Cairo's Tahrir Square. Around 50 women took part, surrounded by a larger group of male supporters who joined hands to form a protective ring around them. The protesters carried posters saying, "The people want to cut the hand of the sexual harasser," "It is my right to protest safely," "Groping your sister is shameful for the Square" and "Be a man and protect her instead of harassing her." Protesters chanted "The Egyptian girl says it loudly, harassment is barbaric."The march was attacked about an hour and half after it began by a mob of hundreds of men. Overwhelming the male guardians, attackers molested female marchers and tried to throw rocks and glass at them. The victims claimed that from the ferocity of the assault it appeared to have been an organized attempt to drive women out of demonstrations and trample on the pro-democracy protest movement, reports Associated Press. The clash was quickly over as volunteers securing the protest intervened to stop the assault. This is not the first time a women's rights march was attacked in Tahrir Square.Earlier in the week, an Associated Press reporter witnessed around 200 men assaulting a woman who eventually fainted before men trying to help could reach her.In March, on International Women's Day, a march of dozens of women was attacked by a mob of men who did not like women protesting for more rights.Several female protesters were injured and one woman had to have 8 stitches in her head. Almost all of them were sexually assaulted in the attack.
You can share this story on social media: