Egypt arrests Morsi's former PM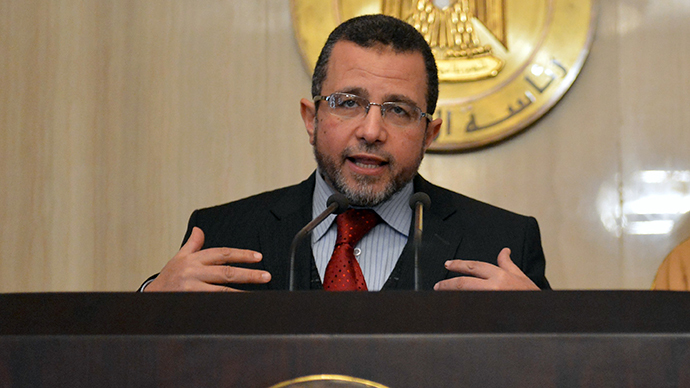 Egyptian police have arrested the former prime minister under ex-President Mohamed Morsi. Hisham Qandil was arrested in the desert outside of Cairo while trying to escape to Sudan with a smuggler, the Interior Ministry stated.
While in office under deposed Islamist President Mohamed Morsi, Qandil was sentenced to a one-year prison term for not following court orders to renationalize a company after it was privatized in 1996.
The sentence was upheld by the Cairo appeals court in September.
After Morsi's overthrow by the military in July, Qandil lived a very quiet life. Over the summer, he was a spokesman for an alliance of pro-Morsi Islamist groups during talks with European mediators who worked on lowering tensions with the military-installed government.
Qandil is not a member of the Muslim Brotherhood or any other Islamist organization.
Negotiations failed in August when police launched a crackdown on pro-Morsi supporters, which killed more than 1,000 people in clashes and imprisoned thousands, including some top Islamists.
Violence has increased in Egypt since Morsi's overthrow, especially in response to heavy-handed military tactics against pro-Morsi, Muslim Brotherhood supporters.
On Tuesday, explosions at a police headquarters in Mansoura killed at least 14 people and injured 130 others, Egypt's health ministry stated.
Egyptian Prime Minister Hazem Al Beblawi condemned the attacks, calling them an act of terrorism and vowing to seek justice for the perpetrators. The liberal Free Egyptians Party accused the Muslim Brotherhood of being responsible for the attack.
The Egyptian military-backed government has been pursuing a crackdown against Morsi and other Muslim Brotherhood leaders.
Since then, several criminal cases against Morsi have been launched. One of them accuses him of inciting deadly violence during the December 2012 protests. He is also facing a criminal trial over an episode in January 2011, when he - along with 129 others - escaped from a prison.
Many international players have expressed concern over Egypt's crackdown on the opposition.
In November, UN chief Ban Ki-moon criticized the impact of Egypt's new law which restricts assemblies following a crackdown, and the arrests of dozens of activists angry at the measure.
Egyptian authorities earlier handed out heavy prison sentences to a group of 21 young female Morsi supporters and ordered the detention of two dozen secular activists for participating in Tuesday's demonstrations.
In September, a court in Egypt banned all activities of the Muslim Brotherhood in the country. The Brotherhood's assets will also be confiscated, according to the ruling.
Also in September, Egyptian security forces stormed an Islamist stronghold in the village of Kerdasa, located outside Cairo, arresting 65 people.