Edward Snowden has not applied for political asylum in Russia - Russian Migration Service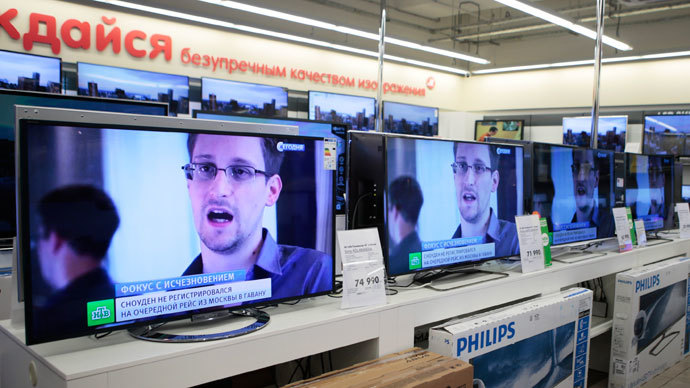 The Russian Federal Migration Service (FMS) has refuted media reports which claim that NSA leaker Edward Snowden applied for political asylum in Russia.
The New York Times, citing "a Russian immigration source close to the matter," reported on Monday that former CIA employee Snowden asked Moscow for political asylum.

The unnamed source told the paper that a WikiLeaks activist traveling with Snowden handed his application to a Russian consulate in Moscow's Sheremetyevo airport.  

Information in the foreign media which states that Snowden asked for asylum "is not true," Zalina Kornilova, head of FMS press service, told RT.

However, Kim Shevchenko, a consul at Sheremetyevo airport, said that Snowden did apply for asylum in Russia.
According to the official, [WikiLeaks activist] Sara Harrison - who introduced herself as Snowden's proxy - handed him the NSA leaker's application on Sunday evening. The diplomat said he took the envelope, contacted the Foreign Ministry, and gave the document to the Ministry's courier. 
"I can't say what exactly was in the envelope, because I received it and did not look inside," Shevchenko told RT. He added that he knows the file was the asylum bid based on what Harrison told him. "And I believe this is not something one would be joking about," he observed.
This information has not been verified to RT by the Russian Foreign Ministry. Consulate employees are not entitled to make any comments on behalf of the ministry.
Earlier on Monday, Putin said that Snowden could only stay in Russia if he "stops his work aimed at damaging our American partners." The president also observed that the whistleblower does not seem intent on putting an end to the leaks. 
Russian security forces "would certainly consider Snowden's application, should they receive it," sources within the forces told Itar-Tass.
It would not be an obstacle that Snowden has not got a passport since the US annulled it and has no other ID: confirmation of his identity by a witness would be enough, the source said. 
Under Russian law, a person can be granted political asylum if one's life and health are in danger or if one's rights and freedoms are violated.
The decision on the matter should be approved by the FMS, as well as the Federal Security Service, and Foreign and Internal ministries, the source explained. After that, the bid is considered by the presidential commission on citizenship and then sent to the head of state. The entire procedure may take up to several months. If a person is denied asylum, one can still remain in Russia under refugee status.
Snowden – who is wanted in the US on espionage charges after he revealed secret surveillance programs – has remained in a transit zone of Sheremetyevo airport for eight days now since he arrived in Moscow from Hong Kong.
You can share this story on social media: