Russian education system learning to adapt to changing times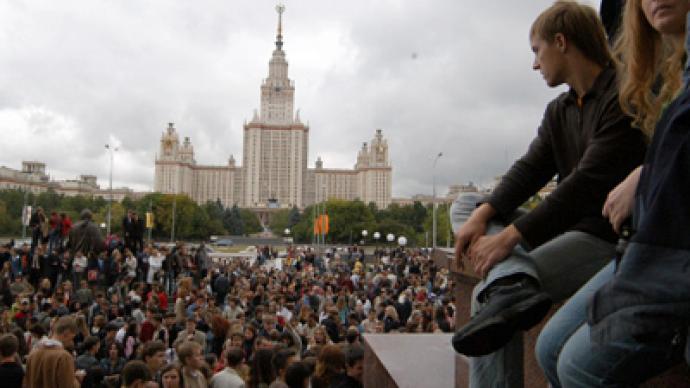 Education in Russia is going through radical and at times controversial changes. RT spoke to Russia's Minister of Education and Science Andrey Fursenko to find out how educational standards will be raised and if that will help stop the brain drain.
RT: Andrey Fursenko, Russia's Minister of Education and Science, it is great to have you with us.We used to be very proud of the Soviet educational system we inherited. We would say that our sixth-grade school student studies things that American students do not study until four years into university. What are the reforms about, and what is going to change not only in the system, but more importantly, in the mentality?Andrey Fursenko: First of all, we indeed used to have a good educational system, but it was very adapted to the country we lived in at the time, and it had its flaws. One such issue was that when the country changed completely, those who had previously received a good education failed to adapt. The lesson learned here is that as we reform the educational system, teaching students to adapt to a changing world and to succeed in it must be at the heart of what we do.RT: Why are we doing it today? Our country changed back in the 1990s.AF: Because at any given time people pay either more or less attention to education. The educational system underwent considerable reforms during the Soviet era as well. It is worth noting though, that in the 1980s when the need for reforms was already there, the country experienced dramatic and more profound change, and education was put on the back burner, so to speak. In the 1990s, when the need for change was acute, the state lacked the necessary funds and resources to implement it. That is why, by introducing a new law on education and giving educational institutions more freedom, the state itself withdrew from education both in terms of support and in terms of setting requirements and goals the education system should achieve.RT: Educational reforms are being criticized by many, including state officials, teachers, students' parents, experts, with their main point being that the reforms have failed. What is your response to them?AF: The thing is that we will only get a proper impression of the reforms' impact, if they fail or not, in about ten years time. For me, my priority is different: it is important that officials, teachers, and students' parents are saying that today's educational system is not good enough; it means it needs to be changed.As for how exactly it needs to be changed, here opinions vary. And we encourage and welcome all stakeholders' participation in discussions. We are completely open, and all issues are being discussed in detail, and gradually, step by step, we are making progress.And remember how much discussion there was around the Unified State Exam. Today, public polls suggest that the majority of teachers are in favor of the exam, as are the majority of students, together with their parents, who already took it. Those opposing it have typically never had anything to do with the exam at all, they have just read the press and have an impression something is wrong.
Be healthy and safe – and study what you want at secondary school
RT: Can we speak a little more specifically? The reform implies that the only compulsory subjects on the curriculum will be Personal Safety and Security, Physical Education, Mathematics, and Russia in the Global World – although no one really understands what that is about, it is assumed to be a subject with an ideological slant. Wouldn't you agree that at the very first glance it looks like a very odd list of subjects? Quite logically, one wants to ask: why not the Russian language, why not History? Even our prime minister said in his speech that though he loves physical training, maybe it'd be worthwhile to revise this list of mandatory subjects? What criteria did you use in defining them?AF: The first thing I would like to say is that as of today, this is nowhere near an accepted standard. It is a suggestion made by one expert group. And we simply offered it up for public discussion.This suggestion proposes at least ten compulsory subjects on the curriculum. It should also be noted that there are subjects, which are not so much compulsory as standardized across various curricula and systems. A student can choose arts, or science. They can choose to work in industry, or to follow a career in the performing arts. But regardless of that, a student should be fit and healthy, therefore no matter what subjects they choose and consider of importance for themselves, physical education and sports are of fundamental importance.Similarly, in the complicated and dangerous world we live in, people must be able to deal with emergency situations, such as render first aid, or know what to do if, God forbid, a terrorist attack occurs, and while the subject probably does not have an extensive program it is essential for everyone and must be on every educational curriculum.Of course, there is no doubt Literature, Mathematics, Natural Sciences, should be compulsory, depending on how a student plans their future, they will have an opportunity to select from a subject-list through different modules.
Higher education: reversing the brain drain
RT: Sir, many see problems not in school-based education, but with higher education. They say that our higher educational institutions have fallen way behind those in the developed world. Do you agree with that?AF: It is a global problem too. The thing is that globally, education changes more slowly than the incredibly fast development we see in economics and the social sphere – often products of human innovation. Changes are rapid, many fall behind, others grow disenchanted. That is why anti-social incidents are on the rise. It may explain growth in drug addiction, because some try to deny the facts of rapid change, to avoid a life bringing new challenges, demands and solutions.We must prepare our children for that. And perhaps we should start with pre-school institutions and primary schools. Our higher education may not meet the challenges of the present, but we are trying to find a solution by supporting the best institutes in the country, by bringing up leaders who will reform the whole education system. At this level we give our students more freedom to choose what to study. But along with that we have got to create opportunities for them once they have made their choice. If a student chooses natural sciences, we have a responsibility to provide top quality education in this subject, and we would like it to be the best in the world. Today, in some universities, we provide this level of education, but in others – not yet. Hence, changes and reforms are needed throughout the system.RT: Why do you think so many wealthy parents send their children to study abroad? And the same thing with students from less wealthy families, as soon as they receive a grant they leave the country to study abroad. Why do you think it is so?AF: Not everyone now. The situation is changing. The situation is different from how it was 10 or 15 years ago. Moreover, many young people are returning to Russia, because today there are job opportunities and interesting places to live. For the past several years the average age of people working in science has been slowly going down. The number of people involved in scientific research who are younger than 40 is rising. This is what we dreamt of just a few years ago. The young scientists who received additional education and experience abroad are starting to come back. We have to create conditions for their work, to make education, science and economics more attractive for our young people so that they will stay in the country.RT: How can this be done? I remember last year young scientists, natives of Russia, received the Nobel Peace Prize in Physics, but they all live abroad. How can we stop the brain drain?AF: We are making a great effort. We are building laboratories, raising salaries for young scientists. We are inviting renowned scientists from around the world to create new laboratories in the country. This process will take a lot of time. We have lost a lot, and now we are restoring it step by step. We cannot expect good results overnight. But we are seeing positive changes at every stage. There are negatives, too, and we are working on them. We live in a world where we can candidly speak about both good and bad. I gave you several examples of our work. But unfortunately, very few people know about it. And we should proclaim our progress as much as we address problems.RT: In Davos, President Medvedev said that from now on Russia will recognize diplomas from foreign universities. But Russian credentials are not recognized abroad. Is it really fair?AF: It is unfair, but retaliation in this respect is not the right option. We are interested in bringing the best scientists and tutors to Russia to teach our students in Russian universities, rather than encouraging our young people to study abroad.We are negotiating qualification recognition with leading American and European university associations. In holding these negotiations we hope to create a mutual institutional understanding; not at the state level, but real inter-institutional cooperation at the third level, when the best foreign universities recognize degrees awarded by our best universities. I think that this is a more effective and positive way for us to be able to invite the best young scientists from around the world to Russia, and for our best young scientists to work in the leading world centers without any problems.RT: According to one rating of our top university, Moscow State University is 74th in the world. To what extent is it objective or accurate?AF: Any rating is subjective. And any rating is open to manipulation. Our university heads are offended by the placing, but I tell them not to pay much attention to it. Our priorities are different. There are many comparative criteria and we should choose those most important for us, and base our reforms on priorities we set ourselves.For example, every rating considers a citation index of scientists working in a university. In my opinion this is significant. Our scientists are not always enthusiastic about publishing in English. But I explain that this impacts on the country's image – when your best scientific work is read and cited around the world. Our professors are paid by the state and thus bear a responsibility to enhance its prestige through academic endeavor.There is also an index of graduates' success. We always lose out in this respect because we simply do not know to what extent our graduates are successful. If we are to prepare highly sought-after professionals, we should at least know about their career. It is a key university responsibility.RT: In the US they have a specially-designed system for that.AF: Right. It also promotes the university. So in my opinion, if we paid more attention to those indexes we would have a higher position in the ratings.RT: Thank you so much for the interview.AF: Thank you.
You can share this story on social media: