Ecuador 'helped Snowden by mistake,' asylum in doubt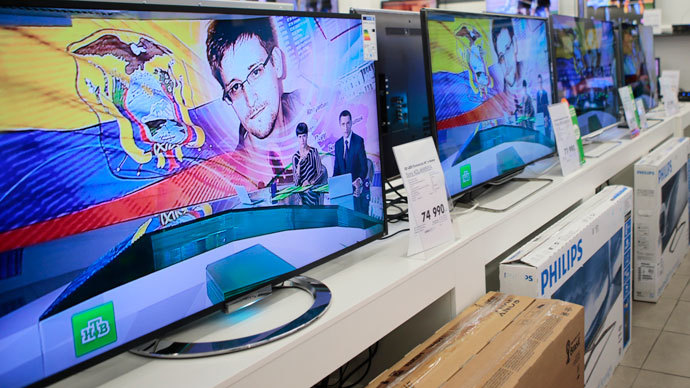 Edward Snowden will not necessarily be granted asylum in Ecuador, and any travel aid given to him was purely accidental, the Ecuadorian President has said. He also rebuked WikiLeaks founder Julian Assange for speaking on the part of Ecuador.
Correa told The Guardian that Quito will not be involved in financing or organizing Snowden's travel from Moscow, specifying that the fugitive leaker would have to reach Ecuadorian soil before the government considers protecting him from American law enforcement. 
"Are we responsible for getting him to Ecuador? It's not logical," Correa said Monday. "The country that has to give him a safe conduct document is Russia." 
The president's comments came just hours after a letter from Snowden to Ecuadorian lawmakers was made public. In it, Snowden thanked them for considering his asylum request and providing a temporary travel pass for his trip from Hong Kong to Moscow on June 23. Snowden is without a passport, and in a Monday statement issued via WikiLeaks he referred to himself as "stateless."
"I must express my deep respect for your principles and sincere thanks for your government's action in considering my request for political asylum," Snowden wrote in Spanish, according to London's Press Association.
"There are few world leaders who would risk standing for the human rights of an individual against the most powerful government on earth and the bravery of Ecuador and its people is an example to the world."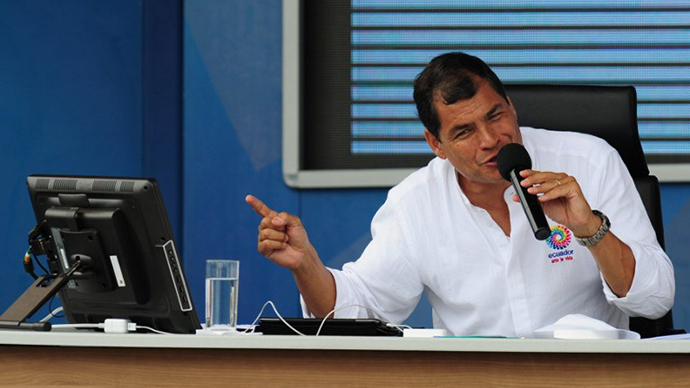 The kind words seemed to leave Correa unmoved, though, as he has since admitted that issuing Snowden the travel pass was misguided and, in any case, was not approved by his office. 
"It was a mistake on our part," he said. "Mr. Snowden's situation is very complicated, but in this moment he is in Russian territory and these are decisions for the Russians authorities."
Assange acted 'incorrectly'
Correa also touched on Ecuador's continued protection of WikiLeaks founder Julian Assange, who has spent more than a year at the country's London embassy. Assange and Fidel Navarez, Ecuador's consul in London, acted on their own – amid a state of confusion - to supply Snowden's travel documentation to the Russian capital, the president claimed. 
"Look, [Assange] is in the embassy, he's a friend of the consul, and he calls him at four in the morning to say they are going to capture Snowden," Correa said to The Guardian. "The [consul] is desperate – 'how are we going to save the life of this man' – and does it.
"So I told him: Okay, if you think you did the right thing, I respect your decision, but you could not give, without authorization, that safe conduct pass. It was completely invalid, and he will have to accept the consequences."
He also said that he had been "a little annoyed" by Assange's actions on Monday when the whistleblower claimed the US vice-president Joe Biden had called to pressure Ecuador into not granting asylum.
"So he knows about the call made to me by Joe Biden? And he says he called to pressure me. I would never accept such a call," Correa told AFP. He added that he had sent a message to Assange via the Ecuadorian foreign minister, Ricardo Patino, to refrain from interfering in Ecuadorian affairs.
Correa reiterated his denial that there was any possibility he would provide Snowden with another authorized travel document, this time to leave Moscow. 
When asked if he would like to meet Snowden, Correa responded with a simple, "Not particularly." 
"He's a very complicated person," the president went on. "Strictly speaking, Mr. Snowden spied for some time."
Ecuador, by all accounts, was the nation most likely to accept Snowden despite pressure from the US. Correa spoke to US Vice President Joe Biden by telephone Friday, though, and has since backpedaled from the assumption that Snowden would be welcomed with in his country open arms. In a weekend address to the nation, Correa said the conversation was "cordial." 
Biden's call was the highest level conversation between the US and Ecuador since the Ecuadorian ambassador publicized the initial asylum request. 
"They did discuss Mr. Snowden, but we are not going to provide details on their discussion," NSA spokeswoman Bernadette Meehan told The New York Times Friday.
You can share this story on social media: