'Who betrayed whom?' Ecuador considers Snowden's asylum, dubs persecution 'paradoxical'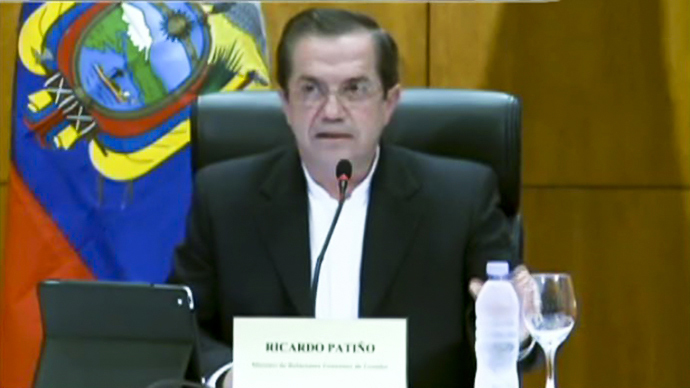 Has Edward Snowden betrayed people of the world or certain elites in a particular country, asked Ecuador Foreign Minister Ricardo Patino as he confirmed that the whistleblower was in Russia following the asylum bid the South American country.
Patino said on Monday that human rights principles were the most important consideration in the case of former CIA contractor.
Ecuador has been in contact with the Russian government over Edward Snowden and has informed Russia that it is considering him asylum appeal, Ecuador's Foreign Minister said at a press conference in Hanoi on Monday.
He stressed that the Ecuadorian government puts human rights above any other party's interests. Patino also said it is "paradoxical" the person who revealed alleged rights violations is being "persecuted."

"It should be asked, who betrayed whom," Patino stressed as he questioned the correctness of calling Snowden's leak a "treason."
"Is this betraying the citizens of the world, or betraying some elites that are in power in a certain country?" the Minister asked.
The alleged US espionage plan would be violating the rights of "every citizen in the world," Patino said, referring to Snowden's claim that the US agencies are "intercepting the majority world's communications."
Patino also read out Snowden's formal asylum request. In it, the whistleblower has compared himself to the US Army intelligence analyst Bradley Manning, who has been accused of sending a trove of classified documents to WikiLeaks and is now on trial for "aiding the enemy."
"It is unlikely that I will have a fair trial or humane treatment before trial, and also I have the risk of life imprisonment or death," Snowden said in his asylum bid, citing Manning's case and his "inhumane" treatment.

The Ecuadorian Constitution guarantees the safety of people who publish opinions through the media and work in any form of communication, Patino stressed.

Meanwhile, Ecuador is also considering a US request related to Snowden, which it received from the US envoy in Quito. Patino said the decision would come in due time.

"The relationship between the US and Ecuador should be based on respect for the sovereignty of both countries and our actions are founded on our principles. We consider the consequences of our decisions, but we act in the name of our principles," said the Minister, stressing that the US had denied the extradition of several Ecuadorian bankers charged in Ecuador. 
Snowden, a former contractor for the US National Security Agency (NSA) who exposed a top-secret PRISM surveillance program to the media, was expected to fly to Cuba on Monday and then change planes to Ecuador. However, he has not been seen aboard the plane flying from Moscow's Sheremetyevo airport to Havana, RT's Egor Piskunov reported.

You can share this story on social media: