Ecuador grants Assange asylum: LIVE UPDATES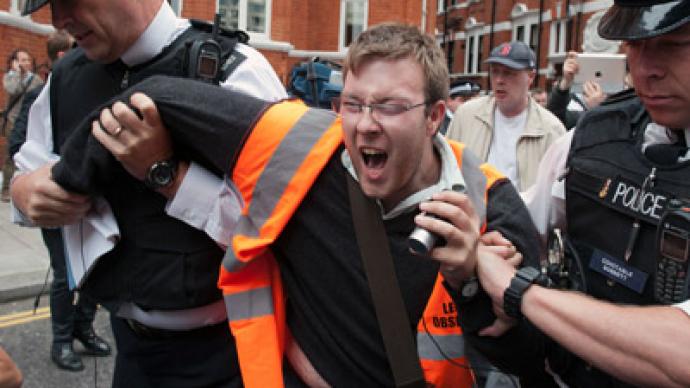 17:00 GMT: We are wrapping up our LIVE updates on Ecuador's decision to grant Julian Assange political asylum.
16:10 GMT: The UK does not accept the principle of diplomatic asylum, Hague says.
16:07 GMT: British Foreign Secretary William Hague says UK will restrict Assange from safe passage out of the UK as long as there is legal basis to do so.
15:35 GMT: The Ecuadorian Foreign Ministry releases a statement on its website about Assange's asylum plea.
14:45 GMT: Around 10 police officers have entered the embassy.
14:40 GMT: UK Foreign Office announces that Foreign Secretary William Hague will speak to the media on the case at approximately 16:00 GMT.
14:05 GMT: Sweden summons Ecuador`s ambassador, calls Assange asylum decision "unacceptable."
13:27 GMT: Assange says Ecuador's decision to grant him asylum is a "significant victory."
13:17 GMT:  Wikileaks says the UK is under a binding obligation to recognize asylum, the rights of refugees and other UN laws.
13:00 GMT:  "Hands off Ecuador!" chant demonstrators gathered in front of the embassy.
12:50 GMT:  Assange has exhausted all options for appeal and UK authorities are under binding obligation to extradite him to Sweden, the UK Foreign Office says. The Ecuadorian government's decision does not change their obligation to extradite Assange.
12:47 GMT: The UK Foreign Office is "disappointed" by Ecuador's decision.
12:39 GMT: Ecuador grants Assange political asylum.

12:35 GMT: Ecuador requested confirmation from the UK that Assange would not be extradited to the US, but London would not commit to a statement, Patino says.
12:30 GMT: Asylum a fundamental right to all; no local government or law can be used to deny the right to asylum, Patino says.
12:27 GMT: Assange doesn't have adequate protection from Australia, Patino says.
12:25 GMT: Ecuador says evidence shows Julian Assange would not receive fair trial in US, and his rights have been violated.
12:24 GMT: Assange is struggling for freedom of speech around the world, Patino says.
12:21 GMT: UN & Vienna convention prohibit violating diplomatic space, says Patino.
12:20 GMT: UK authority should not be used to threaten any country, Patino says, adding that Ecuador will not surrender to any external interest.
12:12 GMT: Ecuadorian Foreign Minister Ricardo Patino has begun a news conference in Quito by saying that Ecuador cannot allow the conversation between the UK and Ecuador regarding Julian Assange's asylum to be obstructed by threats.
11:57 GMT: Ecuadorian nationals are chanting in front of the embassy, expressing their anger towards the UK's intention to storm the building.
11:50 GMT: Occupy NYC's official Twitter account threatened to hold a "24/7 Occupation at NY Ecuadorian Embassy, demanding the security and safety of Assange."
11:45 GMT: Several protesters wearing Guy Fawkes masks have lined up in front of the embassy and are holding banners that say 'I'm Julian Assange.'

11:28 GMT: Craig Murray, British political activist and former ambassador to Uzbekistan, says if UK police storm the Ecuadorian embassy, British diplomats worldwide will be left with no protection."I returned to the UK today to be astonished by private confirmation from within the FCO that the UK government has indeed decided – after immense pressure from the Obama administration – to enter the Ecuadorian Embassy and seize Julian Assange," he said.
11:04 GMT: Protesters can be seen carrying handmade banners, with some holding a poster-making workshop on the sidewalk near the embassy.

10:47 GMT: President of the Ecuadorian National Assembly Fernando Cordero has called a special meeting on the UK's potential raid of the Ecuadorian Embassy. Although Parliament is in recess for 15 days, he called 124 legislators to attend the meeting. This session will not address the issue of Assange's bid for asylum, Cordero said.
10:35 GMT: "I think that this point in time, other nations need to stand up and defend Ecuador's right to make this decision. They haven't even made the decision, they're being threatened. Imagine threatening to storm an embassy to this because they're protecting the rights of a journalist. We have to respect Ecuador's sovereignty, something that the UK might like to take on board. This is a serious decision. " – Christine Assange, Julian Assange's mother, Brisbane, Australia.
10:34 GMT: Three protesters have been arrested following a brawl with London police.
10:14 GMT: Police have cleared the corner near the embassy that was occupied by Assange supporters. Earlier, Wikileaks activists and the Anonymous hacktivist group called on protesters to "flood" the street in front of the embassy.

10:01 GMT: London police have made their first arrest of a protester, RT's correspondent at the embassy reports.

09:57 GMT: Police are surrounding protesters at the Ecuadorian embassy.

09:54 GMT: Over 700 people intend to occupy the Ecuadorian embassy in London, a group affiliated with the Anonymous London hacktivist group announced on a Facebook page.
09:52 GMT:UK will refuse safe passage for Assange even if he is granted asylum, says UK Foreign Office.
09:36 GMT: Police are fencing off the entrance to the Ecuadorian embassy.

09:32 GMT:"Giving Julian Assange asylum will not change anything, Britain has a legal duty to extradite him to Sweden." – UK Foreign Office
09:24 GMT: The UK Foreign Office says it's too early to say if it will revoke the Ecuadorian embassy's diplomatic status in the dispute over Julian Assange, Reuters reports.
09:21 GMT: Witnesses report police helicopter circling the embassy in anticipation of gathering crowd of onlookers.

09:14 GMT: Reporters and camera crews are gathering around the embassy.

09:00 GMT: Protestors have been moved away from the Ecuadorian embassy, RT's London bureau reported on Twitter.

08:54 GMT: Itar-Tass reports an increased police presence in the vicinity of the Ecuadorian embassy. Six police cars are stationed nearby.
08:43 GMT: Earlier, British authorities warned Ecuador that they could raid its embassy and arrest Assange if he is not turned over to police. Ecuadorian Foreign Minister Ricardo Patino responded by calling such a move a "flagrant violation" of international law.
8:40 GMT: Protesters await Assange decision at Ecuador's London embassy under the watchful eyes of police.

8:34 GMT: Ecuador to announce its decision on Assange's fate at 12:00 GMT.
You can share this story on social media: