Ecuador may consider political asylum for Syria's Assad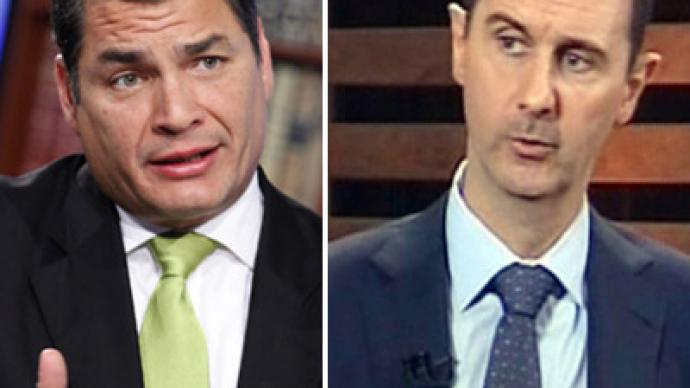 After granting WikiLeaks founder Julian Assange political asylum, Ecuador may consider doing the same for embattled Syrian President Bashar Assad and his inner circle, if he asks for it.
Speaking to Brazilian daily Folha de Sao Paulo, Ecuadorian President Rafael Correa said, "Any person who requests asylum in Ecuador, we will consider as a human being whose basic rights we must respect." "We would analyze such a request with all responsibility," he added.President Correa confirmed that Syria's Deputy Foreign Minister Faisal al-Miqdad had visited Quito a few weeks ago, but denied reports from Israel's Haaretz newspaper that they had discussed the possibility of granting political asylum to Assad, his family and his associates."These talks did not take place," Correa said, noting that al-Miqdad expressed gratitude to Ecuador over its "objective position."Haaretz reported that al-Miqdad had held meetings in Cuba, Venezuela and Ecuador over the past week, bringing with him classified personal letters from Assad to local leaders.Ecuador already made world headlines by granting political asylum to famous whistleblower Julian Assange in August. However the WikiLeaks founder remains confined inside the Ecuadorian Embassy in London as British authorities say that if he leaves, he will be arrested and extradited to Sweden, where he is wanted for questioning in connection with a sexual assault case.The Syrian president, who has ruled the country since 2000, is facing a civil war with local and foreign opposition forces pushing for him to relinquish power.