"A Russian-European economic zone can save euro"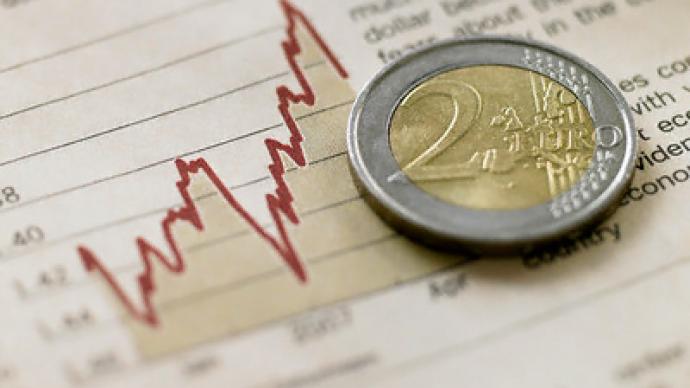 Overcoming stereotypes and becoming closer partners with Russia is the natural way of development for European countries, to help them solve their problems, says Jean-Pierre Thomas, French presidential special representative for dealing with Russia.
RT: You come to Russia every 15 days. What is your primary mission?Jean-Pierre Thomas: My first mission given by President Sarkozy, in line with President Medvedev, is to report and scope out the establishment of a Euro-Russian economic zone. And the second part of this mission is to strengthen economic cooperation in all possible areas between our countries.RT: You have responsibility also for developing trade between France and Russia. What sectors of the Russian economy do you think are the most attractive for business leaders in France?JPT: Today, for France, it is of course raw materials and trade. We have gas, oil is essential, but we do a lot of other things. Today, look at what Alstom is doing with TransMash Holding, building locomotives for export across the world, look at what Sanofi is doing in the pharmaceutical area.We co-operate in many new technological areas, and today these areas are multiplying, because we are in the heart of Russia's modernization plan and French companies can offer quality technology. And so for us, points of interest are many, not only raw materials, which remain essential, including the nuclear sector, in which we can co-operate more deeply.RT: You're talking about good sides of modernization, and President Medvedev has criticized the investment climate in Russia. Do you see improvement?JPT: I see huge progress myself. I have been working with Russia for many years and I believe we are wrong when seeking to teach lessons to Russia. Today, Russia is 20, and the progress to date has been huge. And President Medvedev and Vladimir Putin have done huge work; we see it; the changes are profound.To put it simply, on our side we are not always very aware of that. Firstly, you need to read Russian, which is not common; secondly, you need to come more often to Russia. So we also need to open our minds. There is still much to do however. Your leaders, the president, your prime minister, say it. At the St. Petersburg forum, the roadmap was clarified.The investment climate is much better. Today, look at the business flow between us. The big French groups are present: for example – Vinci who are doing the motorway link between Moscow and St. Petersburg. Today we are developing co-operation on power generation. On the sides of the St. Petersburg's summit, we signed with EDF to equip, and I would say to provide electricity to, the city of Tomsk. We built parts for EADS, for Airbus in Irkutsk in Siberia. So there are multiple areas of co-operation. The co-operation between France and Russia does work.RT: But if someone like you does not come to Russia every 15 days – just a business community outside of Russia. Do they still have the old stereotypes of Russia?JPT: If you speak with the presidents of big French groups present in Russia, they are very happy to be here and they want to develop their business. Those who are not here yet often have some a priori and we have, I have to say it, in Western Europe, not only in France, a problem with our media who do not know Russia well, and Russia should communicate more also. There are old stereotypes and the progress achieved is not reflected.RT: Why? Why is the media biased in the West about Russia?JPT: I think their image of Russia is based on the past, from 15-20 years ago, and as they do not come to Russia often enough, and as Russia communicates actually quite little to us on what internal changes are taking place, we have to deal with outdated ideas and perceptions, which are wrong, and this, I believe, is an important subject. This is a blocking point. We often speak about big groups, but think about the numerous small and medium-sized companies, in Russia and in France. Many are already co-operating, but we could do much more in this area.RT: How will the French businesses that you bring to Russia help diversify the economy?JPT: Today, you are in the middle of a modernization drive in Russia. Be it in transport, water or electricity distribution, in aeronautics, in health at the laboratories level, in high-tech, and by the way, you have Skolkovo which is a big success. Many companies, EADS, Alstom, and soon Sanofi, but also American, German and many others are present, so we can help Russia on technology transfers in many areas.RT: On this visit you will go to the North Caucasus to evaluate its potential for investment. Does the alpine tourism expertise figure in your approach?JPT: Yes, and I believe that Russia took a very good decision, which is the one to try to stabilize and ensure better security in this area through economic development. And both presidents, President Medvedev and President Sarkozy in Deauville, on the sides of the G8, made a joint declaration on this.Russia chose France as the main supplier – not exclusive, but main. To try and establish ski resorts, spas and develop the area coastline. This is a huge project led by Mr. Bilalov, the president of North Caucasus Resorts. We're taking a visit with Ms. Nabiullina, and I believe that the tourist development will be the right path to create jobs, give hope and as well increase security, which also comes with economic development. We are going to take part in this adventure.RT: Is this the first time you will be going to the North Caucasus?JPT: Yes, for me this will be my first time in the North Caucasus and I am very excited to have the chance to discover it, which is wonderful. I have seen photos, the French team accompanying me already knows that area, it is a wonderful place, and I think you can develop a tourist hub in the center of Europe which will be very attractive to the whole world.RT: How long do you think it will take to turn into a tourism paradise? Right now it's not the safest place for tourists to go.JPT: You know, the French have experience. We developed in Croatia, remember. Turkey at the very beginning. When we were developing tourism in Turkey, the area was not that safe. And the conviction of your government and your president, to say that we are going to develop this area, to create jobs for the young, of course to ensure security. The government provides guarantees for up to 70 per cent of investment, but its still taking a chance – it's the right decision to develop this area, so that is what needs to be done.RT: What amount of investment are we talking about?JPT: This is a huge project, over many years; more than $15 billion will be invested. French companies and others will have the opportunity to take part. Investors, and of course the Russian government invests a lot in infrastructure, which our companies can complement: I am thinking about Pomagalski, who builds ski lifts. Other French companies will be present, we are going to invest but it will also be necessary to attract capital from all over the world. This is a very big project.RT: Let's talk about the euro. What are the concerns about the euro in France? It's so closely tied with Spain and Italy, which are sliding into bailout territory.JPT: I believe that, whatever they say, today the euro is not threatened. It is facing difficulties. But as we speak here about co-operation and about a future economic zone with free movement of people and capital between Russia and Western Europe. This will be a breathing space for the European Union and for the euro, an additional economic area and so a strengthening of the euro.RT: You thing a Russian-European economic zone could save the euro?JPT: Yes, I believe that today Europe, which is a political, economic entity, needs a much bigger economic space to be globally competitive. Think about the fact that the American continent is brought together at the NAFTA level, that the Asian countries are brought together at the ASEAN level.We do not have a big area on the European continent, but however so many things link us in history, in culture. And today our economic complementariness is strong. On one hand, there are raw materials, a huge area, on the other hand a trade capacity, advances in some sectors, but not all. You also have here high technology and demand for more, meaning we have a common interest, and common interests to be defended in the world and I believe that today this can only strengthen the eurozone, notwithstanding the rise of China, who for you is a great partner but also a great competitor.Concerning the Mediterranean, the instability is going to continue for some time, the accession to democracy for these countries will be much longer than we want to admit, and our partners across the Atlantic are also competitors, so the idea of expansion is both an opportunity and an obligation, for Russia and for Western Europe, for our countries.RT: Talking about commonalities, Russia and France have always competed for defense and military contracts, and now we are purchasing French helicopter carriers. What do you think of this?JPT: This is a big first. In St. Petersburg in the presence of President Medvedev we signed for the Mistral. This is the first time France undertook such a technology transfer, and sold such important military equipment. And in the same way, by the way, co-operation will be in two directions.As Prime Minister Vladimir Putin came to Paris we took delivery of test model of the Beriev 200, the firefighting plane, which is now under trial in the West of France, and we're looking at buying more. So our co-operation in sensitive areas, the Mistral is an example, shows that the political climate is healthy. There are no more clouds today between France and Russia, and contacts between the two presidents are excellent. Also with the prime minister.I believe that we have to seize the opportunity presented by this political climate, because it is very good, and this is an opportunity to consolidate the gains we have made so quickly.RT: You know Moscow very well, because you come here very often. We like to think that Moscow is like the New York of Eastern Europe. Do you think Moscow can have the status of an international financial center?JPT: I am convinced of Moscow's financial hub plans. We received Mr. Voloshin, who is responsible for the Moscow financial hub plan in Paris. He met French stock market regulatory authorities, on the ACP, on regulating banks and insurance companies, to follow the example of what is being done, so as to be in line with global norms and standards.Our idea is that Moscow, located halfway between Hong Kong and New York, has a central role to play. We have here a big country for raw materials. Moscow could be the global financial hub for raw material trade tomorrow. You are global leaders in oil, gas. Look at big groups like Rusal, Norilsk Nickel, I mean that you are global leaders in the energy sector, so Moscow has a role to play.And moreover for our financial hubs we can find synergies in the derivates area, in many things, so we, we are convinced that the ruble will stay strong, and Moscow must become a major international financial hub. You have a lot of things yet to do at the legal level, on legal security, regulation, but you are doing it at the moment, and the only thing to do is to help you, not to give you lessons.
You can share this story on social media: