Economic crisis prompts Italians take refuge in fascism
Italy's hard-right CasaPound movement is keen to change the bad name of fascism. Its members say they are not responsible for what happened in the past, insisting fascism is "a way to govern the economy and the country" to cope with the economic slowdown.
The challenge for the grouping created in 2003 and named after the celebrated American poet Ezra Pound who sided with Mussolini during the war, is to rewrite history for pure political ends.

"We cannot be responsible for what was happening some 70 years ago. I can't judge events of the past, since I wasn't alive back then; so I cannot be judged for things that happened that far back," the movement's vice president Simone Di Stefano told RT.

According to Di Stefano, CasaPound has been expanding across Italy gaining public support. They claim to have up to 5,000 members and say fascism has never been so popular since WW2.

Like their notorious predecessors, the movement also supports sports and popular culture but is against immigration. But unlike similar organizations elsewhere in Europe, most supporters of the CasaPound movement have named economy, corruption and unemployment as the main reasons for joining the party, a research conducted by the Open Society Foundation has revealed.

Now, Simone Di Stefano says "Italy's sovereignty" is the group's primary objective.

"We're against pan-European tendencies; we're against a dictatorial Europe, because, for example, we don't want production of Italian goods to move to other countries," he explained.

Although CasaPound boasts no elected representatives, it has take over 25,000 votes in the Lazio regional elections earlier this year.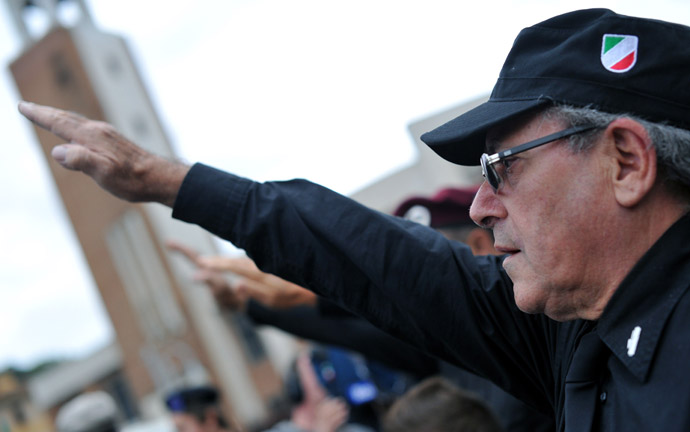 Analysts say such developments are neither surprising nor worrying.

"As a historian, I can say such movements gain popularity during a crisis. But I wouldn't say CasaPound is incredibly popular - their percentage during the elections was not even one per cent," Professor Carlo Casula told RT.
But Simone Di Stefano says there's been a growing interest in CasaPound over the last few years.
"As a far-right party, we didn't get many votes during the elections, but we now have a chance to make TV appearances, so more people can find out about our ideas and what we have to offer," he noted.
Modest popularity ratings and votes aren't discouraging the movement's leaders who claim most Italians secretly subscribe to their ideas but are too shy to voice them.
Earlier this year former Prime Minister Silvio Berlusconi made waves attending a Holocaust Memorial Day ceremony in Milan when he defended Benito Mussolini.
"The racial laws were the worst fault of Mussolini as a leader, who in so many other ways did well," he said.
Mussolini used the support of many unemployed Italians when he set up his Fascist Party in 1919; he organized unemployed war veterans into the so-called Black Shirts armed squads.
His government persecuted Italy's Jewish population. In 1938, under Hitler's influence, Il Duce introduced anti-Jewish legislation which led to thousands of Jews sent to death camps.
According to the Jewish Contemporary Documentation Centre in Milan, the country's Jewish population at the time was estimated at about 40,000. About 10,000 were deported from Italy between September 1943 and March 1945, most of them were murdered in Auschwitz.
You can share this story on social media: