Dwarf planet 'Biden' identified in an unlikely region of our solar system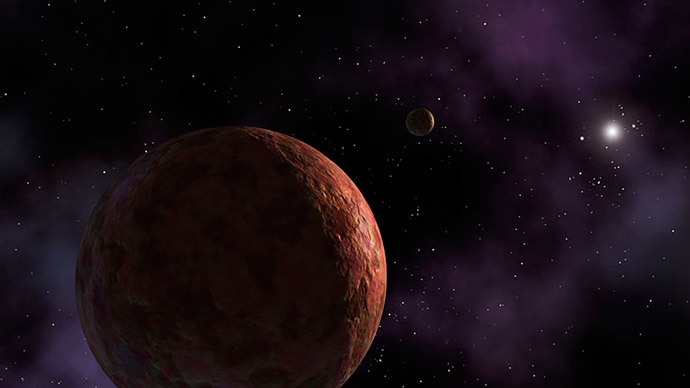 Astronomers believe they have discovered a dwarf planet beyond Pluto, 7 billion miles from Earth. The new discovery is already causing scientists to reconsider everything they know about our solar system.
The planetary body was discovered in the outer regions of space, which scientists long believed was populated by nothing more than floating chunks of matter, until they discovered a dwarf planet in 2003. That dwarf planet, a term that is defined as a celestial body that is neither entirely a 'planet' or a satellite but orbits the sun, was dubbed Sedna in honor of the goddess who created the creatures of the Arctic sea in Inuit mythology.
Planetary observers previously thought that Sedna was an anomaly. The newly found dwarf planet is currently named VP 113, but because of the object's initials it is jokingly nicknamed "Biden" after the US vice president.
Chad Trujillo, an astronomer at Gemini University in Hilo, Hawaii, and Scott Sheppard, an astronomer at the Carnegie Institution for Science in Washington DC, first reported the finding in Wednesday's issue of Nature science journal.
"It goes to show that there's something we don't know about our Solar System, and it's something important," Trujillo said. "We're starting to get a taste of what's out beyond what we consider the edge."
Using advanced technology to gaze 7.5 billion miles into space, the team first found the small dot years ago. They have observed and recorded its path since then and found that, despite being so far away from the sun, "Biden" still floats around the gravitational center of the solar system.
In the future, after more researchers note the celestial body's orbit, they will submit a new name for official consideration by the International Astronomical Union (IAU).
Astronomers use astronomical units (AU), one of which is equivalent to approximately 150 million kilometers, to measure distance in space. During Sedna's orbit its distance from the sun ranges from 76 AU to 1,000 AU. Yet VP 113 never travels further away than 452 AU from Earth, a distinction that is still perplexing to much of the scientific community.
At 280 miles across (and with a temperature of minus 430 Fahrenheit), VP 113 is approximately half the size of Sedna, and a fraction of the 7,900 mile diameter that makes Earth.
"Finding Sedna so far away seemed odd and potentially a fluke," Mike Brown, an astronomer at the California Institute of Technology, told the Associated Press. "But this one is beginning to make it look like that might be a typical place for objects to be. Not at all what I would have guessed."
Experts now suspect that there may be tens of thousands of similar objects, though they would not speculate if future discoveries will prove as large as Sedna or VP 113. Trujillo and Sheppard used a 520-megapixel Dark Energy camera located on a telescope at the renown Cerro Tololo Inter-American Observatory in Chile.
The discovery comes after a string of new findings which have illuminated what is known about outer space. In an unrelated announcement in Nature, Brazilian astronomers identified a pair of rings circling Chariklo, an asteroid that is also considered a minor planet. It was the first time gas rings, which astronomers speculated formed due to debris from a collision, were found outside of Jupiter, Saturn, Uranus, and Neptune.
"What we are witnessing is perhaps the unveiling of an object that is in the middle of the same stage of development as the Earth and the moon 4.5 billion years ago, when there was a giant collision between Earth and another planet," the University of Copenhagen's Uffe Graae Jorgensen said Wednesday in a news release, as quoted by CBC.
Last month NASA announced it had found 715 new planets outside the solar system, nearly doubling the previous total known planets in the galaxy.
You can share this story on social media: