Over 300 US drone strikes in Pakistan since 2006 – leaked official data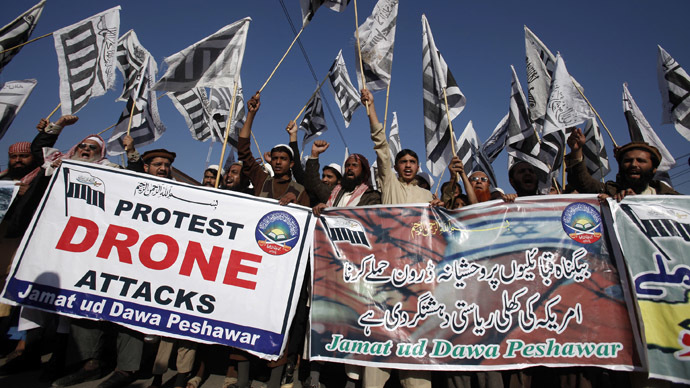 Top-secret documentation collected by Pakistani field officers gives detailed information on 330 US drone strikes that have occurred in Pakistan since 2006. The CIA-run program is estimated to have killed 2,371 people.
From solitary individuals riding on horseback to mountain hideouts crammed with people, the CIA drone program has had no shortage of targets in the Islamic Republic, according to newly released information obtained by The Bureau of Investigative Journalism (TBIJ).
The most complete official record of American drone activity in Pakistan yet published provides an account as to the time and place of each strike, even including in some cases the identity of the homeowners.
The document is unique in that it provides a "strike-by-strike account," opening the window on Pakistan's view of each incident with that of other authorities.
Strangely, the retrieved data stops recording civilian casualties after 2008, while even failing to mention details of civilian deaths that have been widely acknowledged by the Pakistani authorities. It also inexplicably excludes information from the year 2007.
The news watchdog said the leaked documents are based on information filed to the FATA (Federally Administered Tribal Areas) Secretariat each evening by local Political Agents in the field. However, TBIJ noted that the leaked documents are just one of several sources of information the Pakistani government has on US drone activity in the country.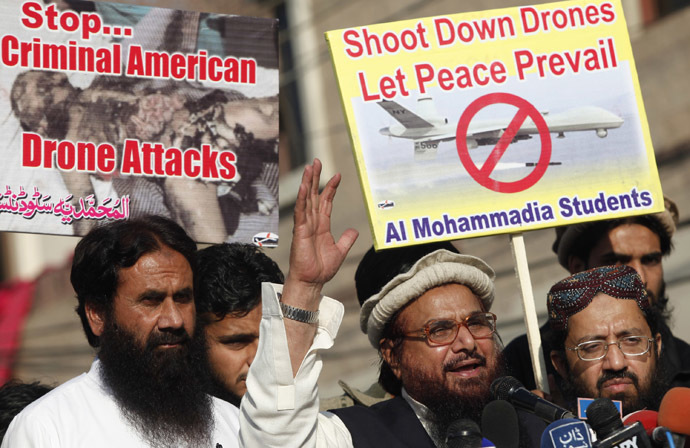 'Naming the dead'
Last July, TBIJ published the first part of the document, which detailed US drone strikes in the northwest tribal areas of Pakistan between 2006 and late 2009.The information showed that Islamabad was aware of hundreds of civilian casualties - even in incidences where it had officially refused to acknowledge such deaths had occurred.
In the first part of the report, 746 people are listed as killed in the drone strikes, at least 147 of the victims are said to be civilians, 94 of which are thought to be children. From 2009 to Sept. 2013, it is estimated that 1, 625 people were killed by drone strikes, a figure that closely matches those of the TBIJ.
The London-based journalism watchdog emphasized that some entries in the report included ambiguous language, hinting that possible civilian deaths are being deliberately concealed.
On March 17 2011, for instance, a meeting of tribal elders fell victim to a US drone strike that left 41 people killed. The attack was condemned by Pakistani officials. The report, however, only states that 'it is feared that all the killed were local tribesmen'.
TBIJ says it has repeatedly found evidence of civilian deaths in strikes where local media have used ambiguous terms, such as 'villagers,' 'people' and 'local tribesmen'.
Another entry in the documents suggests problems with identifying exactly who is considered a 'militant'. For a strike on April 12 2010, it shows 14 deaths and three wounded, noting: 'The killed militants also include a 12 years [sic] old child.'
'Whatever is happening, if this document is anything to go by, it's clear the Pakistan government's investigations are not adequate,' Mustafa Qadri, a researcher for Amnesty International Amnesty, told the journalism watchdog. 'First, this table does not appear to be telling us the whole truth about casualties.
'Secondly, what steps have Pakistan authorities taken to assist civilians caught up in these strikes like access to medical services or provide them with remedies such as access to justice or compensation? … It doesn't seem to be the case that this record keeping is carried out so that the Pakistan state can better assist people caught up in these strikes.'
The data also gives little information on other details, such as which organisation the killed are said to have belonged to, or even the names of those killed. Even in instances when senior militants are reportedly killed, they are rarely identified by name.
As TBIJ discovered with its Naming the Dead report, the overwhelming majority of those killed in drone strikes remain unidentified: only about one in five victims have so far been identified by name.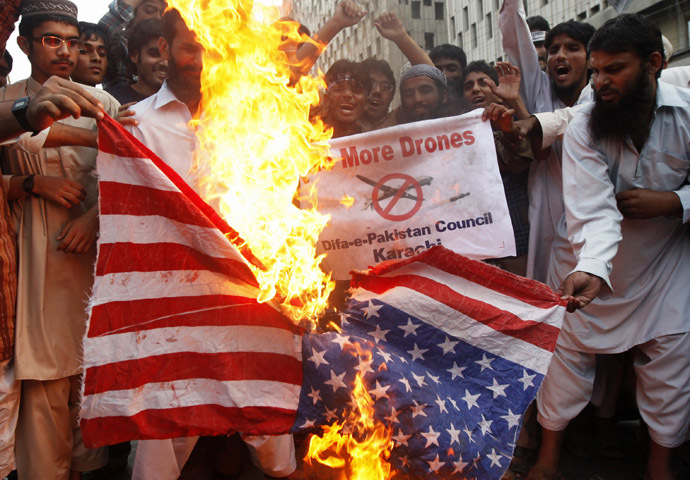 Drone backlash
Amid growing evidence showing that US drone strikes are not as 'surgical' as the Pentagon believes them to be, US officials continue to downplay the collateral damage connected with its drone campaign.
In a report dated August 11, 2011, the New York Times quoted US officials, who spoke on the condition anonymity, that the US Drone program "has killed more than 2,000 militants and about 50 noncombatants since 2001," a hit-miss ratio that the paper described as a "stunningly low collateral death rate by the standards of traditional airstrikes."
The findings of the document are at odds with CIA Director John O. Brennan's claim in June 2011 that that for almost a year, "there hasn't been a single collateral death because of the exceptional proficiency, precision of the capabilities we've been able to develop."
The enduring belief in the flawless execution of aerial drone technology, which allows military personnel to take out enemy combatants, often many miles away from the action, is not without its critics. Indeed, some of them are members of the US military itself.
"What scares me about drone strikes is how they are perceived around the world," retired General Stanley McChrystal said in an interview earlier this month. "The resentment created by American use of unmanned strikes ... is much greater than the average American appreciates. They are hated on a visceral level, even by people who've never seen one or seen the effects of one."
McChrystal said the use of drones creates a "perception of American arrogance that says, 'Well we can fly where we want, we can shoot where we want, because we can.'"
Meanwhile, Islamabad has so far refused to confirm the authenticity of the latest leaked information obtained by TBIJ, but it is not refuting the document's claims of high civilian deaths.
'I am not in a position to authenticate the veracity of this report, but the facts that are being revealed are something which is not new,' Foreign Ministry spokesman Aizaz Ahmed Choudhry told Voice of America. 'We have always said that drone strikes cause civilian casualties.'
You can share this story on social media: