Future war: Arms industry shows off next-gen drones in London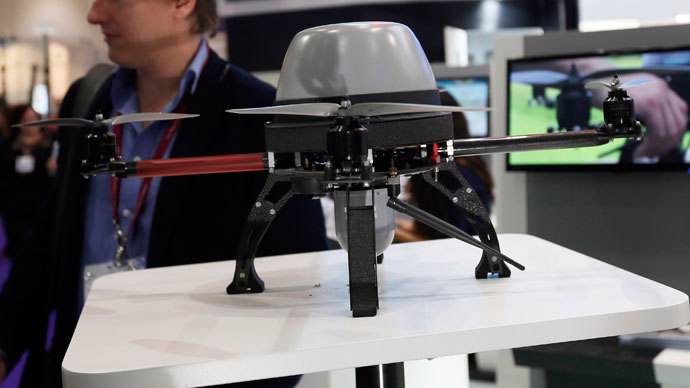 Reconnaissance gadgets and robotic warfare devices are getting smaller by the year, with James Bond like technology being offered to a wide range of buyers, from police forces to special military units.
The market place for such technology has become Defence Security and Equipment International (DSEi) exhibition held at ExCel London.

The international exhibition has established itself as the leading platform to view and purchase state of the art equipment from the world's defense and security industry. Held from September 10-13, it showcased 1,391 exhibitors to almost 30,000 visitors from 121 countries.

This year, the Unmanned Aerial Systems (UAS) conference was also held as part of the DSEi and has focused on future capabilities, including civilian applications of drones as well as technological innovations. The UAS 2,000 m2 event became a one-stop store for anyone seeking to work with the Remotely Piloted Air Systems industry. The Unmanned Systems Showcase held number demonstrations of Unmanned Aerial Vehicles (UAVs) and Unmanned Ground Vehicles, as well as other gadgets that are to be deployed in various security environment and scenarios.

"Technological advances, operational imperatives and budgetary constraints are driving ever greater reliance on UAVs in military operations. UAVs are increasingly being depended upon to deliver capabilities that formerly relied on manned platforms.  As their strategic importance increases, the UAS industry must respond to deliver systems that are ever more cost effective, dependable and survivable," one of the sponsors of the event, Cranfield University, said at the conference.
 
As unmanned drones continue to make headlines on the battlefield in the US-led war on terror over the skies of Afghanistan, Yemen and Pakistan, the industry's main goal is to expand the market share of robots to law enforcement and other security industries.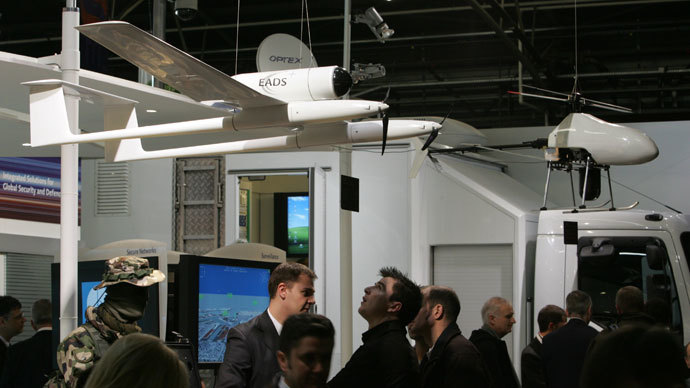 American companies such as Lockheed Martin, Northrop Grumman and General Atomics continue to dominate the military market, while other defense firms such as BAE Systems are in pursuit to develop the next-generation drones with stealth capabilities.

But it is the smaller players on the market that are expending the robotic frontiers with their drive to perfect underwater robots that can that can be used on the seabed to clear mines or gather reconnaissance.  The inventions are getting so tiny that a newly exhibited "quadrocopter" with four or more rotors can be activated from backpacks via remote control.

One of the aim of the technological innovations is to make warfare more secure and safe.

For instance, the ReconRobotics firm says their latest product, the ThrowbotXT is designed to detect an explosive or hostiles in a building before soldiers or police are sent in to secure the premises. The company has sold more than 4,000 of these devises, mostly to the US military in Afghanistan.

The personal sensor system for tactical operators is "pound-for-pound, the most versatile, robust, stealthy and easy-to-deploy tactical robot system in the world," the company says.

Once deployed, the micro-robot transmits video and audio to the controller allowing the analyst to "spot armed subjects, confirm the presence of hostages or innocent civilians, listen in on conversations, and reveal the layout of rooms"

"It gives you eyes inside a room before you go there," Ernest Langdon director of US and international military programs for the company told Reuters. "Maybe that means you see there are children in a room so you don't throw a grenade. Maybe it means you find an IED (improvised explosive device)."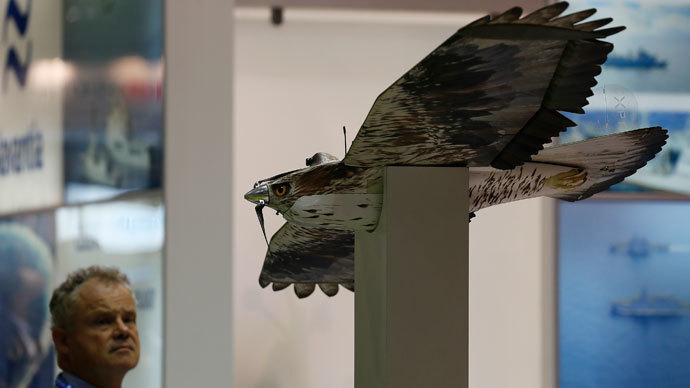 ReconRobotics' is in the process of developing a flying quadrocopter tiny enough to fit in a backpack but capable of providing surveillance inside a structure. Similar designs were also showcased by Estonia's Eli Airborne Solutions used by the country's border guard and aimed for exports to Latin America countries.
Other companies such as the British Colena, are trying to break into a non-military market and are targeting show business. Their five-rotored radio-controlled copter is designed to for the use of film production studios by offering views over battlefields and facial recognition software to scan crowds at public events.

"You see it at the end where you have small robots to be thrown through a window and you see it at the higher end where you have large, expensive drones with artificial intelligence designed to operate for hours or even days at a time," Douglas Barrie, air power analyst at London's International Institute for Strategic Studies told Reuters

"This UK MOD initiative aims to facilitate pragmatic and expedient test and evaluation solutions to a wide range of emerging issues ranging from operational capability problems through to studies pertaining to future UAS test and evaluation," Defence Unmanned Air Systems Capability Development Centre said about the exhibition.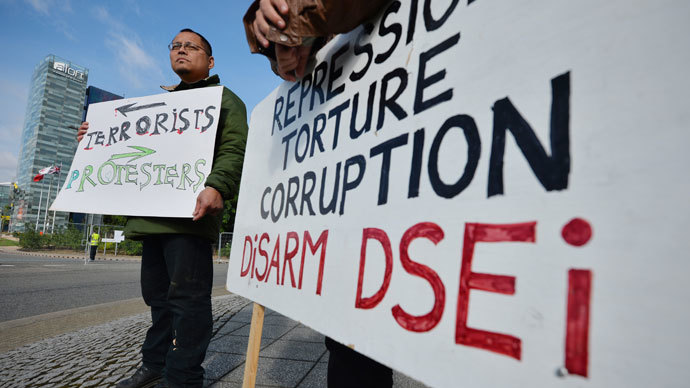 This year's event has been highly politicized as major powers lock horns over the US's attempt to strike Syria over the alleged use of chemical weapons. But it was not the US, responsible for massive collateral damage from the drone warfare that was under pressure. Instead, it was Russia, which the organizers thought should have a limited space for presentation at the event, due to its military contracts with the Syrian government.

"We can confirm categorically that Rosonboronexport is not exhibiting at DSEI 2013," organizers said in a statement. As a result, only five Russian companies were registered to exhibit that are classified as humanitarian and rescue organizations. They include EMERCOM - an Russian organisation engaged in humanitarian and rescue activity around the world; Concern SYSTEMPROM - manufacturers of communication and control systems; Kovrov Electronmechanical Plant - manufacturers of bomb disposal robots, electrohydraulic systems for stabilisation, and GPS systems; MDB COMPAS - manufacturers of navigation equipment for aircraft; and RPC ISTOK - manufacturers of microwave communications components.

Because many of the exhibitors were from the arms industry, the event attracted a throng of anti-war and anti-drone protesters. Arguing that robotic warfare eliminates ethical factor in combat by making it too easy to kill innocent people, hundreds protested next to Excel centre for the duration of the conference.  

The rally, titled "Say No to the Games of Drones", was organized by War on Want, Campaign Against Arms Trade, Drone Wars UK, Stop the War Coalition and Campaign for Nuclear Disarmament.

"Drones are indiscriminate weapons of war that have been responsible for thousands of civilian deaths. Drones should be banned, just as landmines and cluster munitions were banned. Now is the time to stop the rise of drone warfare - before it is too late," War on Want said in a statement.

Armed drones were first used in late 2001 by Washington inside Afghanistan. Since then, drones have been deployed by the US and its allies in Pakistan, Yemen, and Somalia. It is estimated that the United States has killed around 4,700 people in drone strikes.
You can share this story on social media: