Yemen wants US drones to fight Al-Qaeda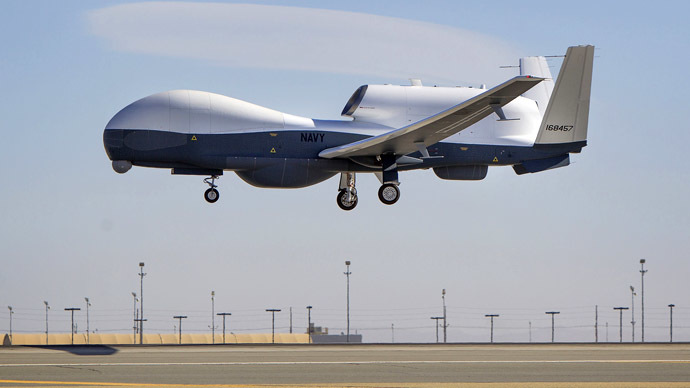 Yemen has announced it would like the US to supply it with drones to fight a more active Al-Qaeda, amid popular opposition to the president's pro-Washington policies.
The state-owned Saba news agency also says President Abd-Rabbu Mansour Hadi vowed to continue fighting the terrorist group until they surrender, after delivering on Thursday the news that 40 of its members have been terminated in recent counter-terrorism operations.

Hadi's predecessor Ali Abdullah Saleh was forced to step down after 33 years of power during Yemen's Arab Spring uprising of 2011, but the country has since become increasingly disillusioned with Hadi's policies as well, viewing them as a continuation of Saleh's agenda. He has also opened the door wide for Washington's controversial drone strikes, which have drastically increased under President Barack Obama. This year alone Yemen took the world lead with 21 instances.

He addressed police cadets on Thursday, saying that "the drones that are conducting operations are part of the cooperation between us and the United States," adding that Yemen did not possess advanced enough technology to carry out such "precise military missions."

The Yemeni armed forces possess the capability of using drones, so the president has "discussed the issue of helping [it] acquire this technology with the US administration," Saba quoted him as saying.

Last year, Yemen seized multiple Al-Qaeda strongholds, flushing out its members and allies with the help of the US. But the terrorist cell has since been rejuvenated and is stepping up attacks against government officials and buildings. Earlier this month, Yemen prevented Al-Qaeda from seizing an eastern provincial capital, as well as two oil and gas export terminals.

Also in August, Western states were forced to shut their diplomatic missions in Sanaa after a phone conversation was intercepted between the terrorist organization's top leader, Ayman Zawahiri, and the group's head in Yemen, Nasser Wuhayshi.

"We will pursue them until they seek peace, give up their weapons and return to their senses as Yemeni citizens and not as enemies of Yemen, and kick out the foreigners who carry out these military attacks with them," Hadi said, defending Washington's drone strikes in the process.

However, at least 37 people were killed in drone strikes in Yemen in the two first weeks of August alone, with locals claiming that many of them were civilians.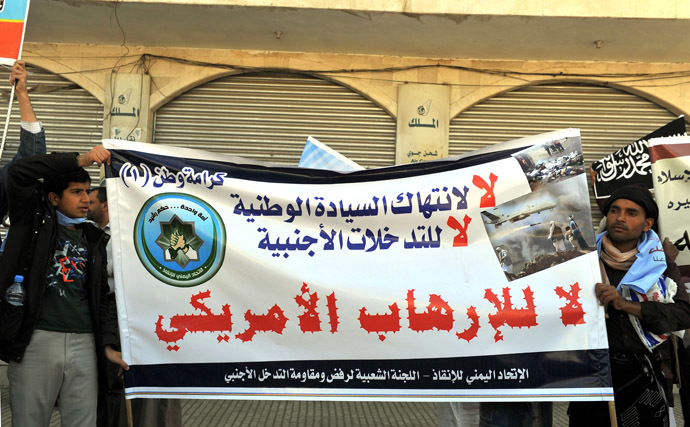 Since 2002, US drone strikes in Yemen have claimed the lives of up to 860 people, according to the British Bureau of Investigative Journalism. It could not be verified how many of those killed were in fact Al-Qaeda militants.

In September 2012, one such strike in eastern Yemen killed 13 civilians, including women and children. Several US officials were quoted as saying the drone apparently missed the intended target, but no official apology or acknowledgement of the mistake followed.

On August 19, thousands took to the streets of Yemen to protest deadly US drone strikes which killed dozens of people over the preceding two weeks, Iranian media reported. Critics say Washington's secretive policy is only pushing Yemenis to favor radical groups.

Anti-US demonstrations held in several cities across Yemen over the weekend gathered thousands of people, FARS news agency reported.

In his Thursday address, the Yemeni president tried to tip the balance in favor of drone use, but the fact remains that Washington's humanitarian support and military aid is indeed crucial for Hadi. The country is still struggling with its weak oil-dependent economy, rampant unemployment, and lacking security forces. The US allocated $345 million to Yemen in 2012 and is expected to give another $250 million in both 2013 and 2014.

One of the poorest countries in the Arab world lies next to the world's biggest oil exporter – Saudi Arabia. Restoring stability to it is one of the international community's primary concerns.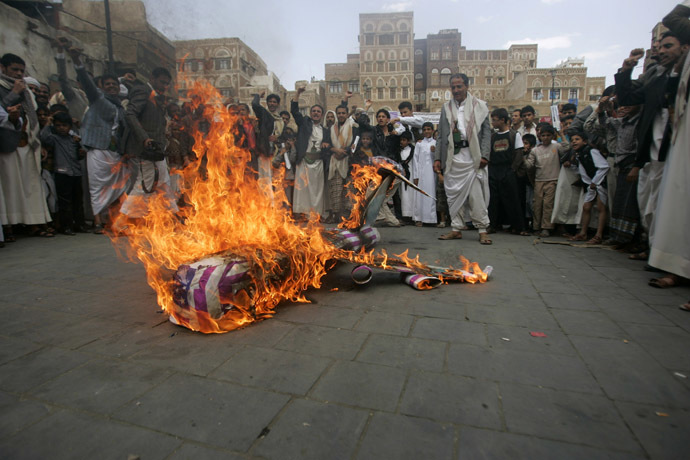 You can share this story on social media: