'Same copyright boat': Dotcom vows not to sue Google, Facebook in exchange for legal support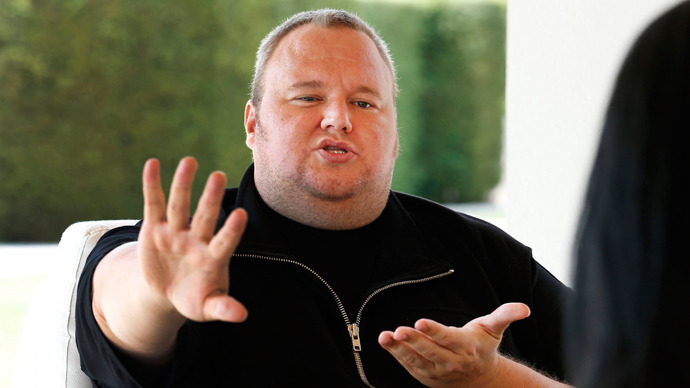 Megaupload founder and Internet tycoon Kim Dotcom claimed via Twitter Wednesday that he invented Two Step Authentication, a method of online security that adds a layer of log-in protection, and called on major Internet players to respect his copyright.
Dotcom is currently home in New Zealand on bail as US authorities pursue an extradition request in order to prosecute him on charges related to copyright infringement. But the mogul, whose birth name is Kim Schmitz, implied that he would take legal action against the powerful social networks and banking sites that have implemented Two Step Authentication if they refuse to contribute to his defense fund. 
The security feature springs into action when a user tries logging into a service from a device foreign to their usual method of access, at which point Two Step Authentication sends a one-time log-in password to a predetermined proxy device, such as that user's cell phone.
Twitter is the most recent Internet behemoth to institute Two Step Authentication after hackers victimized the Associated Press, Financial Times, and other high profile news agencies.  
Google, Facebook, Twitter, Citibank, etc. offer Two-Step-Authentication.Massive IP infringement by U.S. companies. My innovation. My patent

— Kim Dotcom (@KimDotcom) May 22, 2013
Big reveal: 1 billion+ Two-Step-Authentications on the Internet weekly.I invented it. Here's proof: google.com/patents/US6078…
— Kim Dotcom (@KimDotcom) May 22, 2013
Wordpress, Facebook, Microsoft, and Google are just a few of the major networks that employ the advanced but not foolproof log-in method. 
I never sued them. I believe in sharing knowledge & ideas for the good of society. But I might sue them now cause of what the U.S. did to me

— Kim Dotcom (@KimDotcom) May 22, 2013
Google, Facebook, Twitter, I ask you for help. We are all in the same DMCA boat. Use my patent for free. But please help funding my defense.
— Kim Dotcom (@KimDotcom) May 22, 2013
As proof of his ownership, Dotcom pointed his Twitter followers to a patent, requested in 1998 and published in 2000, that lists Kim Schmitz as the sole assignee. The document references 14 separate patents and itself has been referenced by 79 others, including Sony, HP, and Research in Motion (the precursor to Blackberry). 
All of our assets are still frozen without trial. Defending our case will cost USD 50M+. I want to fight to the end because we are innocent.

— Kim Dotcom (@KimDotcom) May 22, 2013
The US Department of Justice is seeking to prosecute Dotcom on racketeering, fraud, money-laundering and copyright theft, charges that could land him a 20-year prison sentence if he were convicted in a US court. He has long denied the charges, citing an overzealous legal effort that was later found to have employed illegal surveillance methods.
I'm an innovator, not a criminal. I live in the future, not the past. My innovations help people, not harm them. STOP persecuting me.

— Kim Dotcom (@KimDotcom) May 23, 2013
You can share this story on social media: