"Our flight was delayed and it saved us" – witness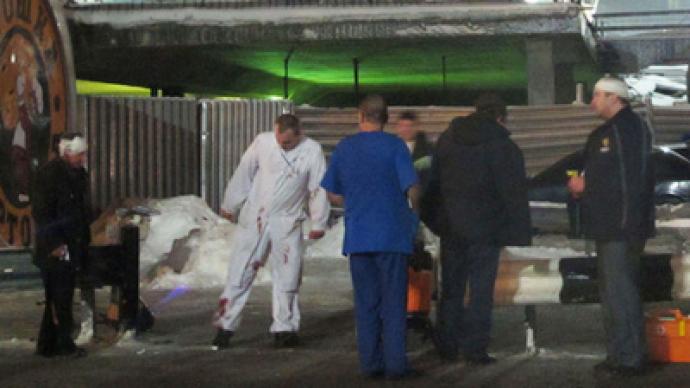 Thousands of people are leaving Domodedovo Airport, which was hit by a powerful explosion. RT managed to get witnesses' accounts.
"When I came to the airport, I heard that there was a blast at the arrivals area," eyewitness Tatyana Popova told RT."There was already a lot of smoke at the baggage claim. There were a lot of people crowded there because the escalators had stopped. The staff organized emergency exits, but the door was very narrow and people crowded there immediately. So the staff started breaking the walls to let the people out. Soon after, the airport stopped receiving arrival flights. Everyone left the passport control area and started leaving the baggage claim area. Only those who hadn't received their luggage stayed." Tatyana told RT it has been announced that the airport is working normally and all the flights are departing on time. "I'm not sure about the international arrivals though. Airport staff don't know where they will be diverted to." Irina Vasilevitskaya, RT's photographer currently on the spot, confirms Tatyana's account. "Right now, at 8 p.m., the place where the terror attack took place seems quiet.The area is being closely watched by the police, but people are receiving their luggage normally," Irina told RT. "Our plane landed at 4:40 p.m. – exactly when the blast happened," Maria Chekotina, another witness, wrote in her blog. "We were forced to remain on board – no one told us anything. We were calling our friends and relatives, but they said there was nothing on the news. After some time, we left the plane, got our baggage… And when we were going though the customs, we saw it all: lots of flesh, the ceiling that crashed down, scary black spatters, broken shop windows, lots of policemen, crying women.""The bomb went on right where lots of people usually stand with flowers waiting for their beloved one who arrive by plane," Chekotina wrote. "Those who managed to make it to the airport to meet their friends and relatives, despite immense traffic jams – they were all killed. I burst into tears when I understood it.""Our flight was delayed and it saved us, because our normal arrival time was at the exact time when the bomb went off. What I saw at the arrival terminal was a lot of smoke, a lot of police and firemen, a lot of airport crew, but there wasn't a lot of panic. People were just picking up their luggage and were going out. Also I saw a lot of damage at the customs desks," another witness, Aleksey Nefedov, told RT. 
Some British passengers found themselves at the centre of a scene of bloody devastation, just minutes after landing in Moscow."We did not really see any of the fatalities," said one of the eyewitnesses, Mark Green. "What we did see was the walking wounded who were coming out of the terminal at the time just after the blast. We offered our water to a number of people who came out. One guy was particularly badly injured: blood on his face, his hands, his legs. He was in a pretty bad way."
"I was receiving my baggage when I heard the blast," Ilya Trofimov, an eyewitness and an emergency worker from Siberia, told RT. "We all saw lots of smoke and ran to the emergency exit. Airport workers immediately blocked the dangerous zone. They started pulling out the injured and the dead. We were sent to the emergency zone, where we got our baggage. All was organized very professionally. The airport workers did their job brilliantly."Witness Elena Bakhtina who owns a café at Domodedovo airport says one of her colleagues was taken to hospital. "She is in the intensive care," Elena said. "The blast happened in the arrivals area – that's the left wing of the airport. The explosion must have been very strong, because our cafe is somewhat a hundred meters from the arrivals area. And when we heard the blast, plaster started falling from the ceiling."
Videos shot by eyewitnesses
You can share this story on social media: