Rottweilers tear kid to pieces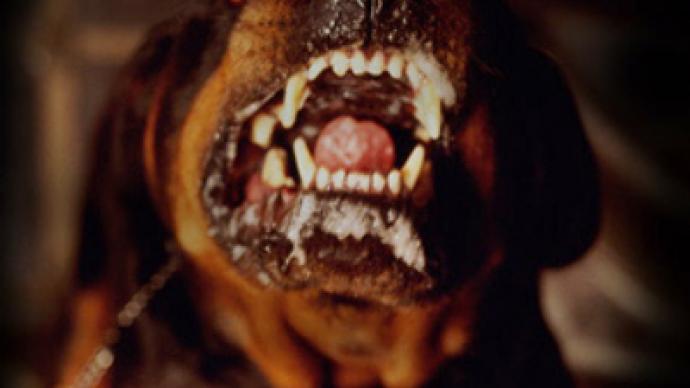 Doctors are fighting for the life of a 12-year-old child from southern Ukraine who has been severely bitten by two Rottweilers. Intensive care specialists have found more than a hundred wounds on the boy's body.
Sasha Staponkus' mother, Galina, says she couldn't recognize her son in the bleeding little boy who she saw on her doorstep on August 28.
"He was bleeding but he was so much in shock that he didn't even faint, but stood there talking about what had happened. I had a fit of hysterics," Galina recalls.
"When he walked in I started shouting. He was all bitten, with his face and ears torn into pieces and blood pouring out of his throat. He was not talking but scraping. I can't help crying looking at him but he says, 'Please don't. I've come back home'," said Sasha's Aunt Zoya Lisitskaya.
The ambulance arrived in a little while to take the victim to hospital where surgeons operated on him during the whole night.
"The boy was brought to hospital in a state of hemorrhagic shock," Ukrainian news site "Reporter" quotes deputy chief surgeon Dmitry Komarov as saying.
The boy is still in a grave condition and doctors are not sure whether he will survive.
After collecting witness accounts for several days, police have launched on Thursday a criminal case on charges of unintended bodily harm.
Under Ukrainian law this crime can be punished with either 150 to 240 hours of community service, up to two years at a correctional facility, or a two-year term in prison.
Sasha was attacked by the dogs near a local café. It turned out that its owner went to bed, releasing the two dogs on the territory. After the grave incident neither Sasha's family nor police managed to find the café's owner. The dogs disappeared as well. The only evidence – the blood-stained ground – was soon cleaned up and covered with a fresh layer of sand.
The boy does not remember how he managed to escape from the Rottweilers. Village residents believe that it was the café owner who took the dogs away. They say it is not the first time the vicious animals have attacked people. A young woman and a man had been attacked previously.
Ukraine has no regulations concerning the purchase of combative dogs. At the same time, killing such a dog in self-defense falls under the law of cruelty to animals, which can lead to a prison sentence.
In most European countries, where breeding of combative dogs is still allowed, these animals are under strict control and require a special permit, similar to those for the possession of guns.
You can share this story on social media: