Document declaring Soviet Union's breakup 'missing' from archives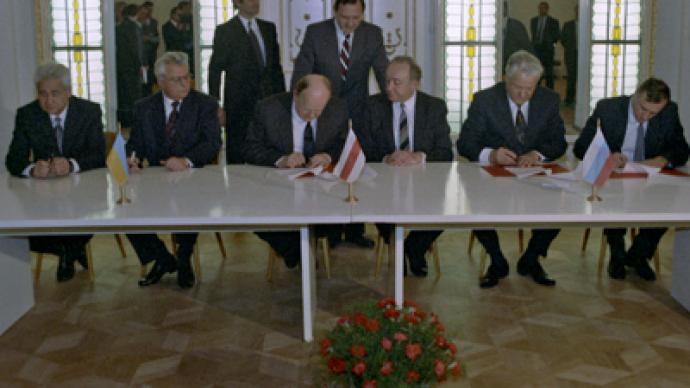 Those looking for proof of the USSR's dissolution will have to make do with copies: the key historic document declaring the country's end has vanished in Belarus. A former Belarusian leader believes it was kept by some official to make "a fortune".
The historic document known as the Belavezha Accords was signed on December 8, 1991 by the leaders of the Soviet republics of Russia, Belarus and Ukraine, though not the leader of the Soviet Union itself. In addition to stating that the USSR "has ceased to exist," it also established the Commonwealth of Independent States (CIS), thus marking a new era for the formerly Soviet republics.The document says it was made in three equally valid copies in Belarusian, Russian and Ukrainian.But it turns out the state leaders were only given certified copies of a Russian-language document, while the only existing original went missing from the Belarusian Foreign Ministry's archives, an investigative report by Komsomolskaya Pravda (KP) has shown.The report issued by the Minsk edition of the Russian daily has spurred media outrage, and has caused some finger-pointing among the officials.
The officials who signed the accords and those responsible for keeping them have failed to explain why they only have notarized copies, or where the original could be.Despite a number of attempts to find the original document original during the 1990s, "no direct or clear answer" could be given by any of the sides, former executive secretary of the CIS Ivan Korotchenya told KP. Korotchenya believes that the original could have been tucked away by some senior official because of its "fundamental importance" at the time. Nobody wanted to be held responsible for signing the accords, he added.However, former Belarusian leader Stanislav Shushkevich had a more pragmatic explanation on why the original went missing from the archives, saying the key historic agreement is "worth a fortune." Any "skilled communist manager" could easily see that its value would be "wildly high" in the future, Shushkevich told KP. He then pointed journalists towards then-foreign minister of Belarus Pyotr Kravchenko.Kravchenko, who was responsible for keeping the treaty at the time of signing, refused to comment on the location of the original. He has boasted in the past of possessing all the drafts of the Belavezha Accords, on which he is now writing a book.The Belarusian foreign ministry said the problem "has been brought into notice," and the archives will be searched to clarify the situation.Even if the original has really gone missing, the notarized copies have legal power equal to the original, a CIS spokesman told RIA. Thus, there shouldn't be any legal consequences in the case of the document's loss, he added.
You can share this story on social media: