Over 50 detained at Pussy Riot courthouse demo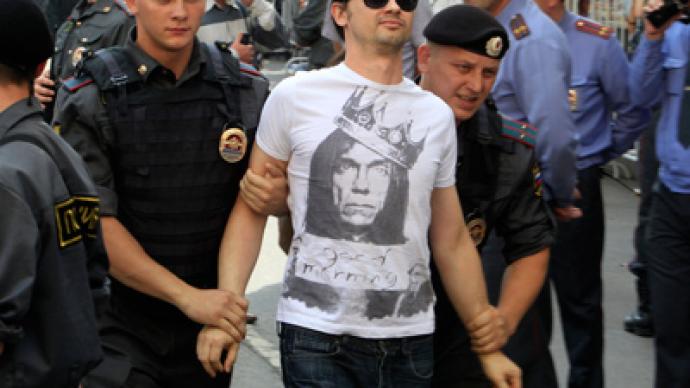 More than 50 of Pussy Riot's supporters and detractors have been detained outside the Moscow court where three members of the punk rock collective were sentenced to two years in prison for hooliganism and inciting religious hatred.
Hundreds of people, many clad in Pussy Riot T-shirts, had packed onto a narrow street outside of the Khamovnichesky Court as the verdict was being handed down. Supporters cried "shame" and "Putin scum" upon hearing the verdict, while opponents held religious icons and sang prayers.Police said those taken into custody had committed various acts in violation of public order. A source within the police station where the detainees were taken said some would get off with a warning, while others would be charged with unspecified administrative offenses.Opposition leaders Gary Kasparov and Sergey Udaltsov were also taken into custody outside the court.Kasparov told the TASS news agency by phone that he had been slightly roughed up, but would not need medical assistance as he was "able to bear it." Police, however, accused Kasparov of biting an officer while he remanded the former world chess champion into custody. The officer was reportedly forced to go to hospital for treatment and police say they are looking into the incident.  Kasparov called the accusation "nonsense."
Left Front leader Udaltsov said he had been accused of organizing an unsanctioned rally in front of the Khamovnichesky Court and of blocking the flow of traffic. He is to appear in court on August 23, and if found guilty, could be fined up to $1,000.Following a highly charged trial that has split Russian public opinion down the middle and galvanized international attention, the judge presiding over the trial said Nadezhda Tolokonnikova, Maria Alyokhina and Ekaterina Samutsevich had shown flagrant disregard for church parishioners and the fundamentals of the Orthodox faith. The judge said they consciously knew their actions would be an affront to Orthodox believers, making the guerrila performance an act of religious hatred.The women were sentenced to two years in a medium-security prison minus time served, a year shy of the sentence prosecutors were gunning for. Defense lawyer Nikolay Polozov said the verdict was illegal as it had been marred by numerous procedural violations. While the defense team will have 10 days to appeal the decision, Poloznov said he might appeal to the European Court of Human Rights rather than the Supreme Court or the Constitutional Court of the Russian Federation.The trio were first arrested in March after performing a politically charged "punk prayer" in Russia's main Orthodox Cathedral, located in the heart of Moscow. They vehemently denied being motivated by religious hatred, with Alyokhina, one of the convicts, saying the trial embodied a travesty of justice.
Watch photos from worldwide rallies to support Pussy Riot in RT's Galleries
You can share this story on social media: