Military means in Libya no quick fix – British activist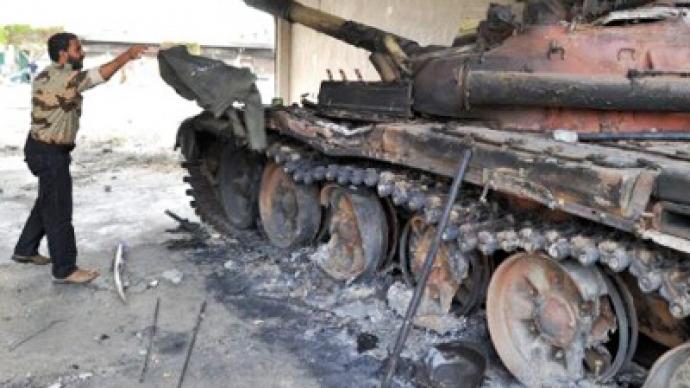 NATO is now deeply entrenched in Libya in what looks like a civil war and there is no visible end to the illegal intervention, insists British anti-nuclear activist Kate Hudson from the Campaign for Nuclear Disarmament.
"It is a complex situation. It is clear that rather than what was initially suggested: one mad dictator going around killing his people en masse – it is now clear there are two political and military sides," Hudson pointed out. "In a complex situation like that it maybe very difficult to move towards a negotiated political settlement – but that is what has to be done.""Military means are not a quick fix and there is no substitute for that detailed kind of negotiation facilitated by the international community – it is going to be hard – but that has to take place." The activist says that despite British Prime Minister David Cameron's assurances, the intervening forces – particularly the US – do use munitions with depleted uranium. In places like Iraq and former Yugoslavia, where American forces used munitions with depleted uranium, the use of this radioactive material in warfare resulted in "sharp increases of birth defects, of cancers, particularly brain cancers, lymphomas and so on.""Depleted uranium is a weapon of indiscriminate affect. When a shell hits its target it explodes and it has what has been described as a kind of 'aerosol effect' of radioactive particles. And you cannot ever ensure that those particles will only affect military personnel. That means that they may indiscriminately affect civilians," Hudson said, recalling that it is illegal according to international law.The activist believes that NATO's interference with the internal affairs of Libya "de-legitimizes the idea of 'popular sovereignty' that has been very much the case in all these [Middle East] uprisings."Kate Hudson has no doubt that the original UN 1973 Resolution has been compromised, "they have gone far beyond the terms of the UN Security council resolution.""We have seen them juggling with words, trying to make what they are doing fit with the terms of the resolution. But of course it is transparently not possible to do that."The activist says the calls of the Libyan opposition about insufficient help from NATO only mean they do not have experience dealing with either NATO or any foreign country, as it appears that the Libyan opposition artlessly believes NATO's assistance will raise them to power the shortest way – a scenario unlikely to occur.
You can share this story on social media: