Six charged with murder after victim dies in Indian gang-rape case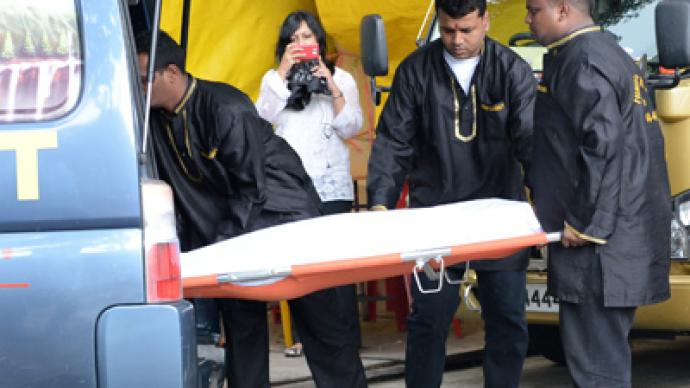 Six men have been charged with murder in connection with the brutal gang-rape of a woman on a Delhi bus that sparked mass protests against sexual violence across India. The victim died in a Singapore hospital on Saturday, a week after the incident.
If the six suspects are convicted they will be sentenced to death, said New Delhi police spokesperson Rajan Bhagat. Police deployed hundreds of officers on to the streets of New Delhi on Saturday in preparation for more riots following the death of the victim in hospital.The 23-year old student "died peacefully" early on Saturday, said a statement by Singapore's Mount Elizabeth hospital, where she was treated for multiple internal injuries."We are very sad to report that the patient passed away peacefully at 4.45 am (local time) on 29 Dec 2012," Kelvin Loh, the hospital's chief executive said."Her family and officials from the High Commission of India were by her side. The Mount Elizabeth Hospital team of doctors, nurses and staff join her family in mourning her loss."Loh said the woman had remained in an extremely critical condition since Thursday when she was flown to Singapore from India. "She had suffered from severe organ failure following serious injuries to her body and brain. She was courageous in fighting for her life for so long against the odds but the trauma to her body was too severe for her to overcome."The young women and her male companion were attacked on a public bus on December 16 by six men who raped her and brutally beat them both. They also inserted an iron rod into her body causing severe organ damage. Both were then stripped and thrown off the bus.The horrendous incident in the Indian capital sparked violent weeklong demonstrations, with protesters demanding greater security for women and urging the death penalty for the suspects.The death of the Delhi rape victim comes after another victim of sexual assault in India committed suicide after police and suspects from an influential cast pressured her to drop the case. The teenage girl was found dead Wednesday night after swallowing poison. She was assaulted during the festival of Diwali on November 13 in the Patiala region, Punjab, according to officials.
"This is extremely sad. But unfortunately that's what it is like in India," Aanchal Anand, a 27-year old Indian graduate student who lives in Washington, DC,  told RT. A native of Delhi she does not want to return to her hometown citing how unsafe Delhi is for women. "The culture reeks of misogyny and the authorities make it worse by blaming the victim for being out late at night or not dressing properly. It's not fun being a woman in India."Anand believes police and politicians need to change in India. "After being raped, the victim typically has to endure humiliating questions by the police. Politicians think that rape reports are the opposition's conspiracy to make their administration look bad. No one appreciates how hard it is for a victim to speak up in a culture that thinks rape dishonors the family," she explained. "But it will take generations for such a mindset to change, and for women to be considered equal citizens in India."
You can share this story on social media: