Defense Ministry opts for French assault ship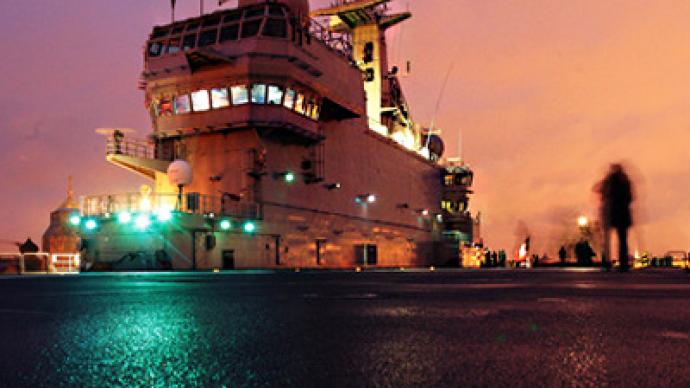 The Russian Defense Ministry has chosen the French universal amphibious assault ship Mistral as the winner of the tender announced earlier in October.
"We are now negotiating all the necessary price terms, and I believe all the documents will be signed this year," Chief of the General Staff, four-star General Nikolay Markov said.The terms of the contract have not been disclosed, but Russia is to buy at least one advanced helicopter-carrier from France. It is expected to be the largest-ever sale of naval hardware to the country by a NATO member. Moscow may also get the license to produce more of the vessels on its territory.The negotiations on this deal have been going on for about a year.  Mistral ships were named as the most likely winners from the very beginning, and Russia put much effort into facilitating the deal, which was opposed by the US. At first Washington expressed its concerns about a NATO member-state selling military equipment to Russia, but with the improvement of relations between Moscow and NATO, the situation seems to have changed.The combat vessels could not be purchased directly, because Russian legislation requires holding an open tender for most procurement contracts signed by state bodies. The French offer competed with those of Spain, South Korea and Germany.The French Prime Minister said during his recent visit to Russia there were no obstacles remaining in this deal.Russian officials expect all the details and documents on the sale to be finalized before the end of the year.The multi-purpose helicopter carrier has a standard displacement of 16,500 tons. It is 199 meters long, 32 meters wide, and its full speed is 18.8 knots. The cruising radius of Mistral-class vessels is up to 19,800 miles.The advanced carrier is capable of transporting and deploying 16 helicopters, up to 70 vehicles and over 400 soldiers.According to unofficial information, a Mistral is worth some 600 to 800 million euros.Dmitry Vasilyev, editor-in-chief of Export of Arms magazine, says the Mistral deal will play a major role in boosting Russia's industry, as it is a common practice nowadays that along with weapons, the importing country also gets the license for the technology."Naturally, Russia doesn't want just to buy ships, but also produce them itself, mastering foreign technology. I don't know how it's going to fit in with our military system, but it will give our industry an edge. Mistral will be supplied with our equipment, of course, and our enterprises will participate in this process," Vasilyev told RT.
You can share this story on social media: