At least 18 killed in Bangladesh's election-day violence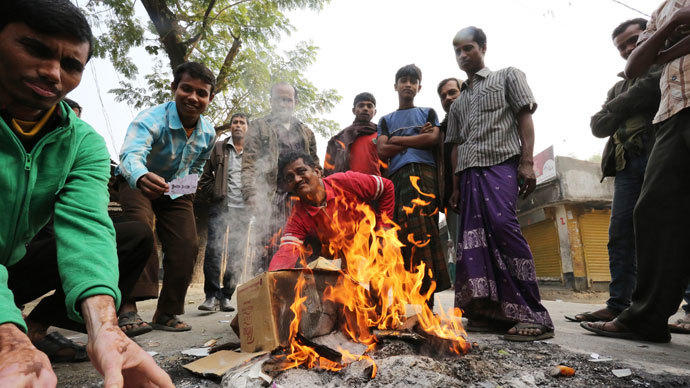 Violence swept across Bangladesh as it held parliamentary elections Sunday, leaving at least 18 dead as the ruling party steamed ahead in the polls. An opposition boycott affected the vote, resulting in sparse voter turnout in the South Asian nation.
Protesters were shot at by police after they torched some 100 polling stations and seized and burnt ballot papers in an attempt to disrupt voting. Two of the 18 killed were beaten to death while defending polling stations in the north, where the violence was most pronounced.

"We've seen thousands of protesters attack polling booths and our personnel at a number of locations with petrol bombs," Syed Abu Sayem, police chief of the northern district of Bogra, told AFP. Police ended up firing at protesters in six separate incidents.

"We were forced to open fire after thousands of them attacked us with guns and small bombs," said Mokbul Hossain, police chief in the northern town of Parbatipur.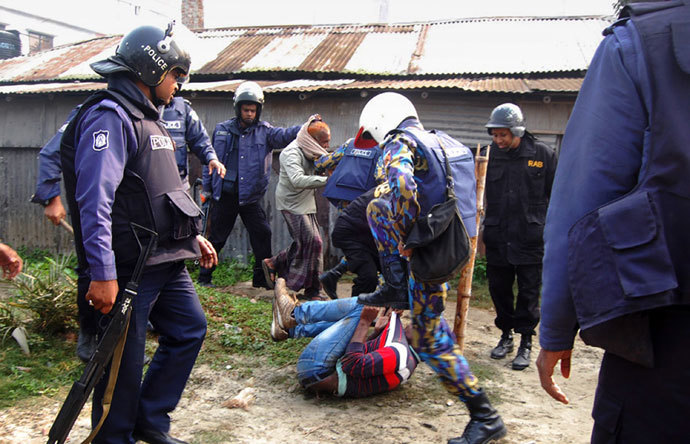 While AFP cites police as saying that 18 people died during the day in election-related violence, the opposition claims that as many as 22 died in the turmoil. However, dozens more were killed in the days preceding the vote, and many also held back from voting because of the fear of violence.

The outcome of the election was never in doubt, as fewer than half the 300 seats were contested. By late Sunday, the ruling Awami League was set to win amid a boycott by the dominant opposition party. Official results are to be announced no later than Monday.

Voting ended at 10:00 GMT, with voter turnout expected to have been low; official turnout figures have not yet been released. The two-day opposition boycott was based on the premise that they considered the election a "scandalous farce," while international observers called the elections flawed, Reuters reports.

The low voter turnout could potentially exert pressure on Prime Minister Sheikh Hasina to seek a compromise with the opposed Bangladesh Nationalist Party (BNP), and could possibly result in new elections.

"The immediate fallout of this dismal voter turnout will be the Hasina government coming under greater pressure to hold talks with the opposition," economist and former governmental adviser, Hossain Zillur Rahman, told Reuters. The opposition had requested that a neutral, caretaker government be installed prior to any new election, to ensure ballot rigging doesn't take place.

"They must stop the violence before dialogue for the next elections can start," Junior Law Minister Mohammad Quamrul Islam told reporters.
You can share this story on social media: